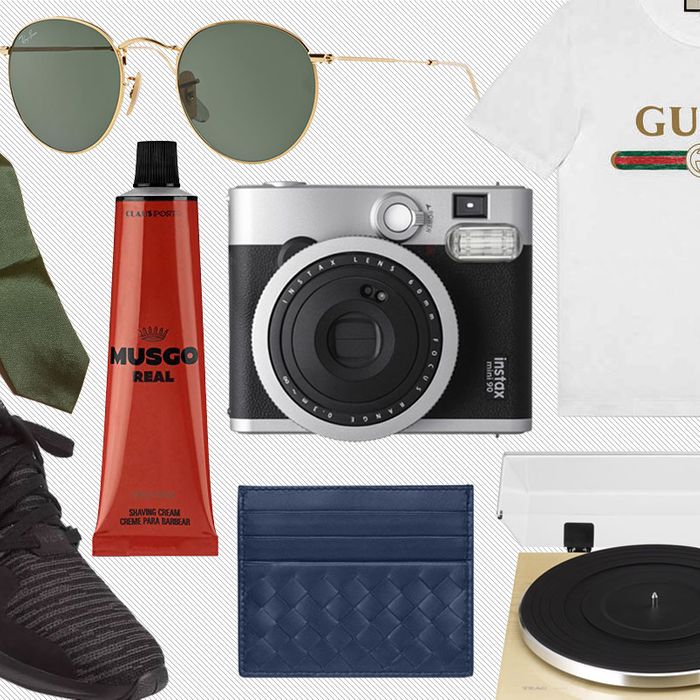 So you're at a point in your relationship where a $50 gift doesn't quite cut it on Valentine's Day but you're still at a loss for what to get him? Not to fear. If you're going to spend a little more on a present, make the most of your cash and buy something that's not only cool but also useful. Maybe he's in dire need of a non-ratty sneakers? Adidas has a sleek black-and-white pair worthy of any sneakerhead. Is he looking to upgrade his work wardrobe? A classic white button-up and elegant silk tie are two closet staples he can get a ton of wear out of. Perhaps you're sick of his place smelling like weird combination of stale takeout and dirty laundry? A chic candle is the item that'll benefit you both. Whether it's workout gear or a nice glassware, scroll and check out our favorite gift ideas.
Okay, technically this is under $50 but this is one of those gifts that happens to be worth buying in multiples. Get a few so he can rotate between them all year long.
If he's going to live in jeans and sneakers, you might as well make them good ones.
Since they're neither painted-on skinny nor JNCO-sized wide, these Levi's offer the perfect, updated fit.
Practical and cool with a classic design that will never go out of style.
Here's another under-$50 idea that's especially thoughtful for the outdoorsy, workout type: A water bottle that has a slot for your phone, earphones, and cash so you have everything within reach.
Give him a moisturizing shave cream because when his skin is dry, you both suffer.
A well-tailored white shirt made for the work week.
Ties sound like they would be a generic gift idea but when his job dictates wearing one daily, it's always good to have one sophisticated one in the mix.
A slick alternative that'll make it impossible for him to hoard a wallet full of ancient receipts.
The perfect gift for any aspiring photographer who wants to shoot unique, instant film images.
Technically this is one of the biggest splurges on the list but if he's the type to meticulously plan his outfits, he'll be hyped to get quite possibly the most talked about T-shirt of the moment.
So he already bought tickets for Coachella, Gov's Ball, and Panorama? For the music lover who likes to have friends over to hang, this fridge made from actual Marshall Amp products is right up his alley.
A sleek duffel with enough room for his gym clothes, laptop, and other daily necessities beats any ratty backpack.
For the music snob who only buys vinyl, you need a proper turntable to play them.
With notes of patchouli, vanilla, and black pepper, it's the ideal scent to mask any questionable odors in his apartment.
Despite the popularity of smartwatches, there's something refreshing about choosing a decidedly analog watch.
His drink of choice is an Old-Fashioned? Give him a beautiful glass (or two) made for that cocktail so you can unwind with them together.
If you buy something through our links, New York may earn an affiliate commission.