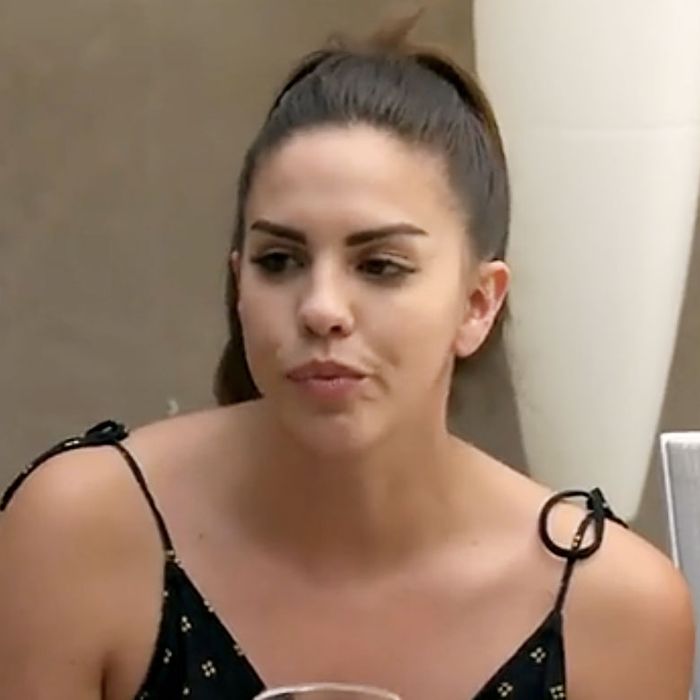 Katie Maloney, mad at spa day.
Photo: Courtesy of Bravo
We all knew coming into this season of Vanderpump Rules that it would primarily revolve around Katie Maloney and Tom Schwartz joining together in matrimony, two D-list reality-TV stars coming together as one. But did we know how terrible of an experience it would be? With every single disastrous wedding-related activity, I grow more depleted in strength and patience, as if Katie were a bridezilla in my own life, her leopard-print-tattooed specter haunting me always. This episode, which involves the least relaxing spa day of all time, continues the pattern.
Starting off at home with Katie and Tom, we learn that they forgot to include room on the invitations for people to include their names, so while they know the number of guests, they don't necessarily know who's coming. (Katie was too busy spending $18 apiece on tea-towel invitations to notice this crucial detail.) Kristen comes over, they gossip about Scheana for a bit, and Katie ominously says that people "need to start falling in line." Falling in line for what, Katie? You're inviting people over for an afternoon of hors d'oeuvres and free booze.
Over at Sur, Ariana shares that Tom Sandoval is getting back into modeling — more on that soon — and fills Lisa in on what happened at James's DJ set. Lisa chastises Jax, to which he responds, on-brand as always, "Of course it's wrong and it's mean but I'm going to do it anyway. I don't like him." Just throwing this out here now: Jax will be elected president in 2040.
So yes, Tom Sandoval is attempting to reboot his modeling career, starting with a shoot at Joe Simpson's (father of "Chicken of the Sea" Jessica) house. He brings along Tom Schwartz, who is star-struck by the elder Simpson. The shoot involves some drapey beige-colored fabrics, which could be the Eileen Fisher men's line for a Nancy Meyers rom-com set 1,000 years in the future. "When I get my photo taken, it's giving my soul life," Sandoval opines, further hammering home why I can never move to L.A.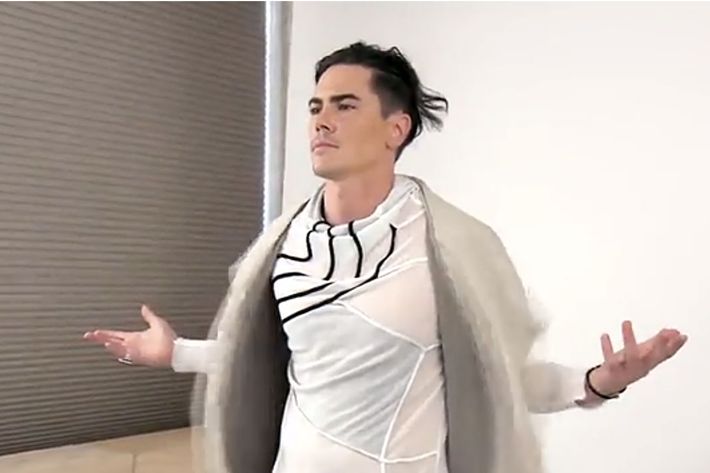 We get a bit of time with two of the show's less-functional couples: First, James and Raquel go out for dinner and she mentions her trust issues while he keeps vehemently denying that he cheated on her even though there is photo evidence. Then, Brittany and Jax finally take her mother's advice and go to church, where the sermon is appropriately about anger.
Stassi, meanwhile, is camping out at her mom Dayna's house, caring for her in the wake of her hysterectomy. While there, her 11-year-old brother Nikolai makes another appearance this season, giving her advice about her breakup with Patrick, the most mundane C-plot of the season.
While Tom Sandoval and James are out for tea, Tom mentions that he's going to be in Peter's upcoming sci-fi movie. Fortunately for the viewer, we are immediately swept off to where Peter is shooting The Riven, an 8-minute-long short film he describes as "Star Wars meets Halo." Tom plays a hologram, and, yes, it's all as terribly wonderful as it sounds.
After Pandora picks up some bottles of wine from Lisa, she throws a spa day at her house for Katie's bridal party (and Ariana). Scheana attempts to broker peace between Ariana and Stassi, and all seems fine. But later at lunch, Katie gives a weird, quietly threatening talk about negativity in her bridal party — mostly targeted at Ariana and Scheana. Scheana brings up that Katie is a mean drunk-texter, which leads to a small fight and causes her to run off crying. Here's your reminder that these women are 31 years old, and not 13.
Meanwhile, the members of the bachelor party — who will, it was established, per Tom Schwartz's request, be dressing in drag for the New Orleans trip — go to Lisa's to try on her dresses and jewels. They all have a very nice time, then Tom Schwartz and Katie go to some sort of library-themed bar-restaurant and she gets angry at him for defending Ariana. She storms out, leaving Tom alone with the check and two burgers, and leaving the rest of us wondering why they're getting married.
Read past Vanderpump Rules recaps here.