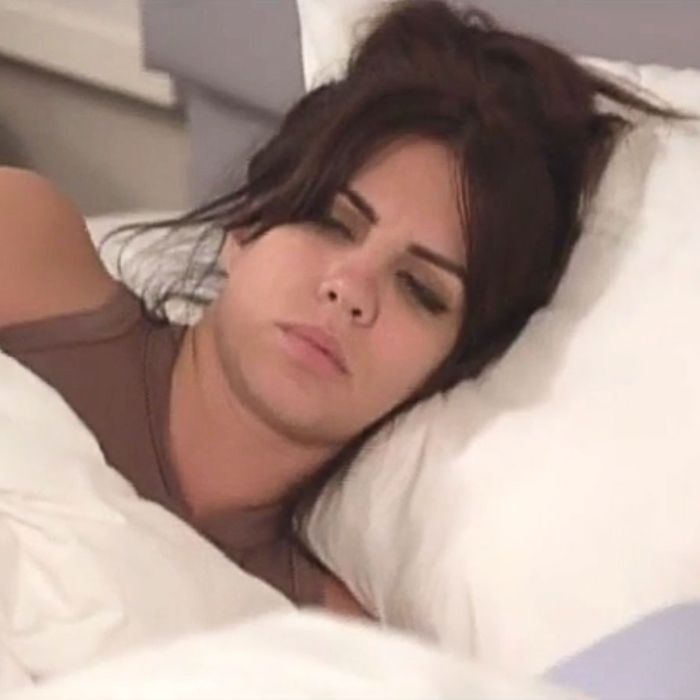 Katie Maloney.
Photo: Bravo
We have now spent three long episodes on Katie and Tom's combined bachelor and bachelorette parties. In the real world, that's three weeks of time during which, uh, well, you should probably catch up on the news. In the Vanderpump Rules universe, that's three episodes to really hammer home that these two should absolutely not be getting married to each other.
Last week's episode ended with a drunk Tom Schwartz storming off in half-drag, saying that he wasn't going to marry Katie. We return to the scene of the scene, where he's still freaking out. Katie and Stassi are in bed having a heart-to-heart, since Stassi just learned about the whole Vegas cheating fiasco for the first time, because it happened while she and Katie weren't on speaking terms. Tom Sandoval dramatically calls Tom Schwartz a "battered wife," while, in another hotel room, Kristen is telling Brittany, "If I could slit Sandoval's throat and just get him off the face of the fucking earth, then Schwartz won't act like this anymore." In case it hasn't been clarified enough already, everyone on this show is absolutely out of their mind and should go straight to bed after drinking exactly one beer. But instead of going to bed, Tom Schwartz — urged by Jax, who's trying to play peacemaker — climbs into bed with Katie and Stassi and attempts to apologize. It does not go as planned.
The next morning finally arrives, and most of the group stays behind to hang out at the hotel pool, while Stassi, Kristen, and Katie pay a visit to Stassi's childhood home, which has just been sold. During their time there, Stassi makes her grandmother admit that she's her favorite grandchild, and Katie says that the "silver lining" of having a massive fight with her fiancé two weeks before the wedding is "that for once, people got to see Tom at his worst." This all seems fine.
Jax had kept urging Tom Schwartz to just apologize to Katie, but when he and Katie finally get one-on-one time, he blows it. He tells to just "drop the Vegas girl thing" and adds "you were a nightmare of a human being for the first two or three years I dated you." "You were really bad," he continues, insisting "you can trust me" as he's squirting whipped cream in his mouth. With all the loud drunken antics stripped away, this quiet fight is supremely awkward to watch. Seeing as Tom and Katie are actually married now, they'd do well to not DVR this one.
They do agree to have one last fun night out in New Orleans, during which the men dress in plaid suits that are somehow even more unflattering on them than their drag outfits. They all take a bunch of shots and play the time-honored middle-school sleepover game of spin the bottle — the Toms kiss, Stassi makes out with Peter, and at one point Kristen steps out for a brief cigarette break. When Tom Sandoval comes out a few seconds later, she immediately starts yelling at him, which, in retrospect, I should not have been so surprised by. In all fairness, they all do seem to have a good and relatively peaceful — if not slightly sad — time, even pulling down a Murphy bed from the bar wall so that Tom Schwartz can give Katie a lap dance. (Katie, I must say, never looks like she's having any fun, but feigned enthusiasm is not everybody's strong suit.) The next morning, Scheana completely ignores Shay as he's opining about the meaning of marriage while they're packing, and everything feels exactly as it should be again.
Back in L.A., Lisa is lying in bed in her pajamas, both Pomeranians present. Ken comes over and serves her tea from a tray, with another dog following. (She's had a busy day of letting SUR hostess Katie O'Malley try out for a chance to be a waitress and, I'm guessing, a new cast member.) With Ken in bed, she mentions that she may want to open a new restaurant with Tom Sandoval as a partner. This scene may serve entirely as a way to move the plotline forward for further seasons, but for me, there was only one thing on my mind: Giggy. Spinoff. Show.
Read past Vanderpump Rules recaps here.