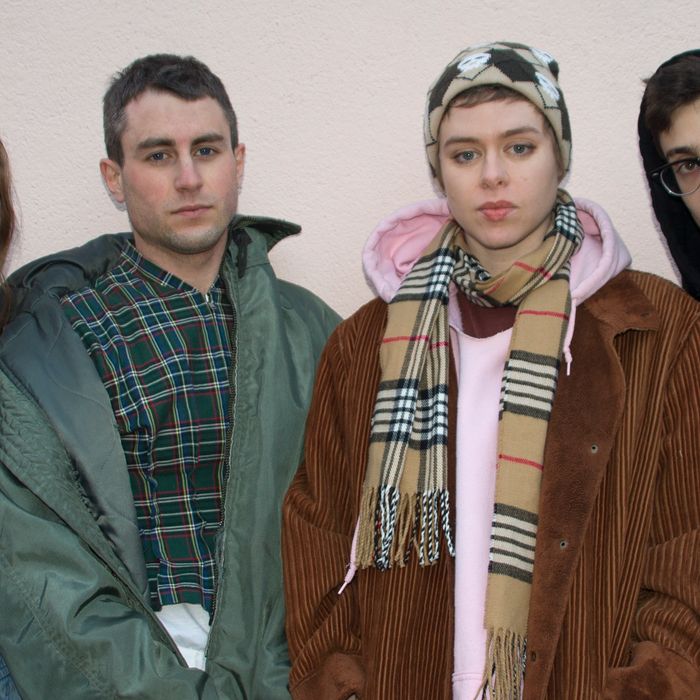 The designers behind Vaquera.
Photo: Courtesy of Vaquera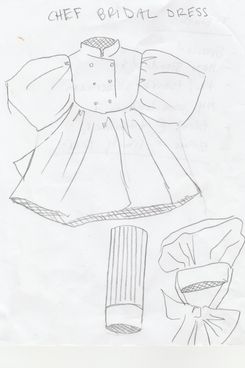 Patric DiCaprio started out as a photographer, spending hours in the darkroom at the University of Georgia and then venturing into the profession after he graduated. However, finding himself "uninspired" by the clothes he would pull for shoots, he began DIY'ing his own from YouTube cosplay tutorials. In 2013, he named his nascent line Vaquera, Spanish for "cowgirl," because he happened to be reading Tom Robbins's Even Cowgirls Get the Blues at the time. This past spring, David Moses, Bryn Taubensee, and Claire Sully joined him, forming a Vetements-style collective. DiCaprio says he prefers to operate as a group. "The reality is, most designers do …they just kind of lie about it," he says.

The brand's fall collection, which they showed today in the East Village, feels of the moment in its riffs on design history and branding. For example, there's a "Vaquera & Co." dress that looks like a pouch in a familiar shade of blue and an accompanying heart necklace that reads "Established 2013." ("We're not afraid to be corny," DiCaprio notes.) A cone bra riffs on '80s Gaultier, while logo'ed suspenders feel very '90s Girbaud, and newspaper prints evoke cusp-of-the-aughts Galliano for Dior. "We love to reference things very pointedly, without being secretive about it. We call what we're doing a little bit of fashion fanfiction," he jokes. "That's another thing a lot of designers do that they don't really talk about it: referencing other designers and other fashion moments that are really important and iconic."
This season, the group focused on the contrast between "industry and excess" — a particularly timely concept that finds them contrasting denim, workwear, and Rust Belt industrial details like riveted jeans with Mar-a-Lago-esque excess. "A fancy ballroom lady having an affair with her mechanic," is the tongue-in-cheek way DiCaprio sums it up. A white T-shirt bears the ultimate image of lavishness: a bright-red lobster on a silver platter, while denim trousers are embellished with crystals. Classic symbols of Americana — like a white dress that vaguely evokes Marilyn Monroe's subway-grate moment, or a glitter Statue of Liberty motif — appear throughout. One of the most notable ones is an American flag dress, trailing a long train. "Under Obama, it would have been really bizarre for us to make this dress and have a flag dragging on the floor," DiCaprio admits, "but I think now under Trump the American flag's [connotation] is … different."