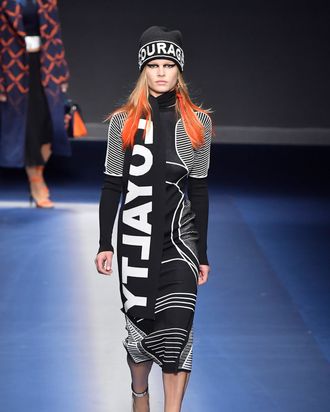 Versace Fall 2017.
Photo: Victor Boyko/Getty Images
All eyes are on Donatella Versace right now, with rumors swirling that now–free agent Riccardo Tisci could be taking over at her brand. Whether or not that's happening, the designer reveled in the extra attention all that talk has afforded, and she delivered a show that put an empowerment spin on the quintessential Versace DNA: namely, supermodels, sex, and strength.

After a spate of pre-show Instagram videos in which some of the models repeated phrases like "strong, sexy, powerful" and showed off their "power poses," the lights went down and a voice-over repeating the word equality began to resound through the stadium venue. Versace has touched on this theme before — for example, spring 2016's female-empowerment pep talk — but emphasized it more explicitly this time around with clothes splashed with all-caps messages of EQUALITY, LOYALTY, COURAGE, and UNITY.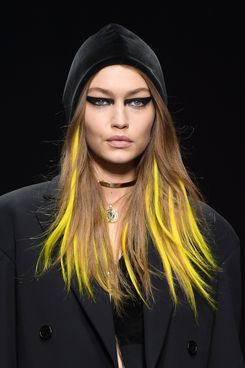 Also present were some of her favorite glamazons: Gigi and Bella Hadid, Cat McNeil, Behati Prinsloo, and Imaan Hammam, with some models sporting rainbow-hued extensions. A classic super moment came from Amber Valletta, who closed the show (and clutched a white bandana during the finale). And Naomi Campbell, fresh off her appearance at Tod's, was front row.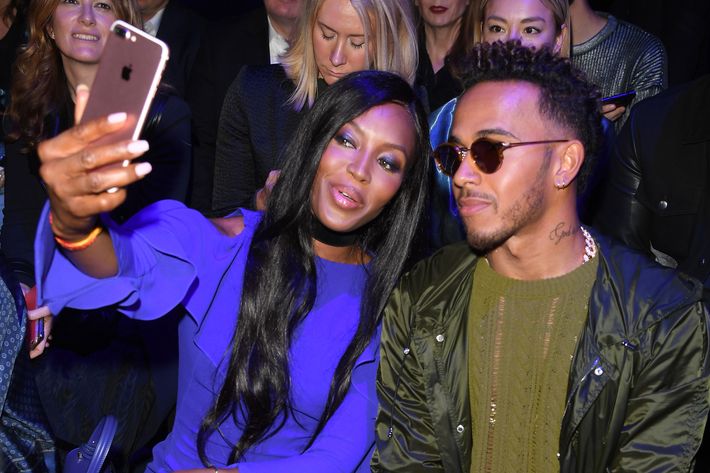 This season, slogans replaced the designer's beloved logos, for the most part. There were no Medusa insignia in evidence – instead we saw subtle Versaces inscribed on collars and the straps of shoes.

The slogans aside, the most empowering element of the collection was its emphasis on real clothing, like a sharp purple pantsuit that evoked the '80s, but wasn't too costumey, and relaxed, low-slung trousers. The sporty elements that have found their way into recent collections were here in full force, on neon parkas and wet-suit-style tops. This is about as down-to-earth as these glamazons get.