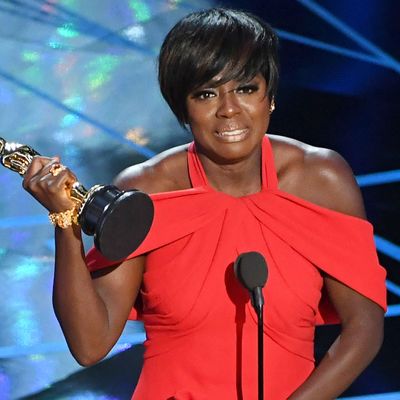 Viola Davis.
Photo: Kevin Winter/Getty Images
Viola Davis made history at the Oscars on Sunday night, and not just because she gave yet another awe-inspiring speech after winning the best supporting actress award for her role in Fences. Instead, as Variety reports, Davis's triumph has actually made her the first black actor to win an Oscar, Tony, and Emmy for acting — and now, she's only one Grammy away from an EGOT.
Whoopi Goldberg, of course, is one of only 22 members of the much-revered EGOT club — and on top of that, she's also the only black person to have won an Oscar, an Emmy, a Tony, and a Grammy. But Variety notes that Goldberg's Tony was actually for producing the musical Thoroughly Modern Millie, not for acting in it. So, with her win, Davis became the first black star to nab those three awards for acting.
Following her win (and incredibly moving speech), Davis told reporters backstage that she felt "overwhelmed." She went on to say that growing up, she "just wanted to be good at something," and called all that she has accomplished a "miracle of God." And, when asked what she loves about being a black woman, Davis replied, "Everything."
I love my history. I love the fact I can go back and look at so many different stories of women that have gone before me who seemingly should not have survived, and they did. And I love my skin. I love my voice. I love my history. Sometimes I don't love being the spokesperson all the time, but so be it. That's the way that goes, right? But at 51, I — I'm — I'm sort of loving me.
Additional reporting by Lisa Butterworth.