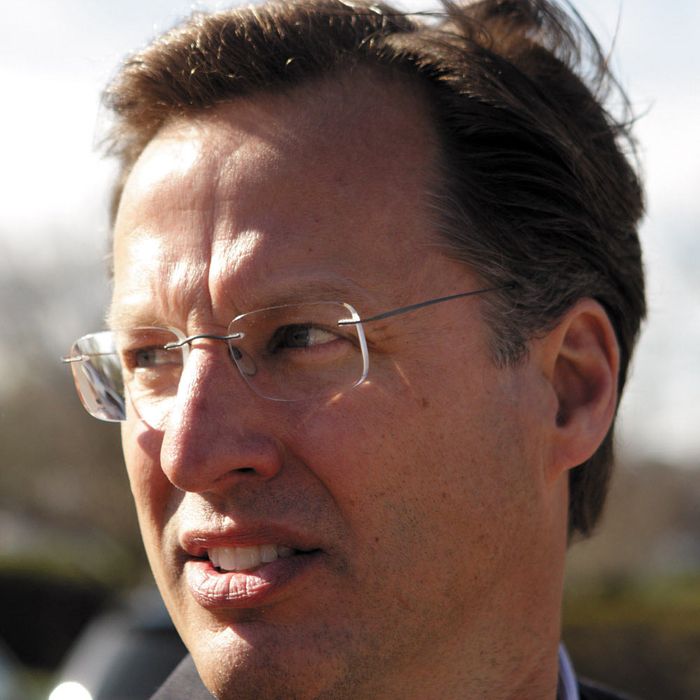 Virginia representative Dave Brat got an earful Tuesday night.
Photo: Jay Paul/Getty Images
Dave Brat, the Virginia Republican who said his female constituents are "in my grill no matter where I go" wanting to talk about health care, held a town hall Tuesday night, where he addressed their concerns — when he could be heard over the noise of the crowd, that is. He held the town hall in Nottoway County, Virginia, which is about an hour south of where most of the people in his district live, but that didn't deter them from arriving in droves and lining up outside the venue hours before the event began, the Washington Post reports.
Brat's staff had constituents write their questions on index cards and handed the cards to the local mayor. The mayor then chose questions for Brat to answer, according to Politico. A spokesperson for Brat said the format was designed to let him answer as many questions as possible, but it also saved him from being dressed down by constituents a la Mitch McConnell at an event he held in Kentucky on Tuesday.
For instance, Ginny Bonner, of Henrico County, Virginia, said she was there because as many as six of her family members have preexisting conditions, including a daughter with thyroid cancer. "She would be uninsurable" without Obamacare, Bonner told Politico.
Some of the crowd's most energetic boos came when Brat addressed the GOP's plan to repeal and replace the Affordable Care Act. "The problem is Obamacare has just collapsed," Brat said. The crowd shouted back, "No, it has not!" and many people held up red cards to signal their disagreement. Alyssa Mitchell, a 21-year-old college student, regularly shouted at Brat, "You're misinformed!" and Nicole Subryan, 44, reportedly "kept up a loud running commentary" during the town hall, at one point telling Brat, "You're full of shit!"
Others pushed back against the idea that they were "paid activists on the far left," as Brat claimed during a recent interview. One woman held a sign that read, "This grandmother drove 165 miles to be in your grill, Mr. Brat and no one paid me to be here!" Brat was far from the only Republican to face a furious audience on Tuesday night — senators and representatives in Florida, Iowa, and Tennessee, along with McConnell in Kentucky, also faced crowds of angry constituents. "Some of you are as boisterous as Trump," Brat said as he wrapped up. "But I loved every minute of it."