There are certain people who were just made for fashion, and as Princess Deena Aljuhani Abdulaziz tells it, she is one of them. The 42-year-old Saudi Arabian was born in California and spent her life moving between the Middle East and the United States as her father, a prominent economist, taught at universities in Ann Arbor and Boulder. Her first magazine was England's Tatler, which she initially encountered at the age of 6, and her interest just took off from there. "Look," she says one December afternoon in Pier 59 Studios at Chelsea Piers, "I discovered fashion and I never looked back. And when I first discovered Vogue, I was like" — she takes a long, dramatic breath — "There are other people that do this!"
Abdulaziz has a throaty voice with an accent that's hard to place. She enunciates her words hyperclearly and has a theatrical way of announcing things, a sort of Diana Vreeland lite. She points and jabs her index finger — at the sky, at her audience, at herself — a lot. "I created mood boards before I even knew the meaning of the words," she says. "I would be so inspired by something André Leon Talley wrote in his 'Style Fax' — remember that? — and I would say, 'Qui êtes-vous, Polly Maggoo?, what is that?' 'Slim Aarons's coffee-table book, what is that?' And then I would pursue it. Like crazy. And remember, this is before the internet! I would study every publication cover to cover — I was just hungry for it, hungry for every single thing about fashion."
Abdulaziz takes a final sip from a cup of green juice and calls an assistant over to ask for another. There's hip-hop on a loud sound system and three models in satin evening gowns posing against a seamless backdrop while a scruffy guy in a T-shirt snaps away. There's a harried Italian aristocrat in sneakers, a ponytail, and no makeup hunched over a laptop and talking on a cell phone, tracking down samples held up somewhere. It's a proper, old-fashioned fashion shoot, and Abdulaziz, the first-ever editor-in-chief of Vogue Arabia, is practically vibrating with delight. It seems as if she might just levitate off the sad leather couch where we are chatting right up to the ceiling, over the ignored (but for the tea bags) catering, past the assistant steaming dress after dress on a collapsible rolling rack, to shout to her childhood self, "Deena, it happened! You are Polly Mellen! You are Phyllis Posnick! You are an editor of Vogue!"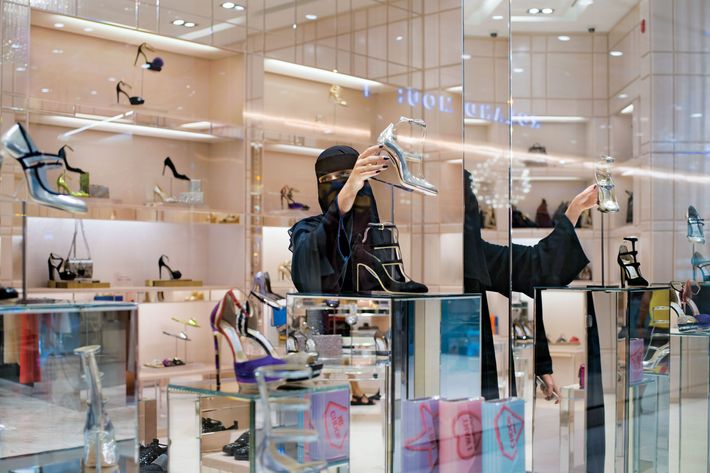 "I didn't grow up with a Vogue of my own," Abdulaziz says, "one that reflected my identity, that reflected my background, my area, my authenticity. So for me to actually be present for that? It makes it very, very beautiful."
The print edition of Vogue Arabia will be available this spring. It's a politically charged moment for a debut, with the entire world observing the chaos of Trump's immigration ban — issued following a campaign of openly anti-Muslim rhetoric that included the suggestion, just after the Khans made their appearance at the Democratic convention, that Muslim women are not permitted to speak. (This past summer, closer to the center of the fashion world, the French city of Nice, among others, briefly responded to a terror attack by banning women from wearing "burkinis" on the beach.)
Abdulaziz declines to comment on political issues several times over the course of our meeting, insisting that she does not view her role that way. But it is clear that she is frustrated by what she sees as the very limited ways in which the West treats Arab, and Muslim, women — frustrated that the accomplishments of her friends are often overlooked, that while Middle Eastern women are welcome in fashion as long as they spend huge amounts of money, this welcome comes with limits (and, frankly, prejudice). She fears that many in the West see Muslim women as a monolithic emblem of oppression, and she is emphatic that nothing is so simple. "Arabs have been responsible for making couture stay in business from the late '60s through today," she says, giving an impressionistic picture of recent fashion history. "And, you know, back during the Gulf War, the couture houses were on the verge of extinction because the Gulf customer wasn't coming to Europe to shop, because of the war, yet nobody acknowledges their contribution to an art form. It bothers me to no end. I would like to shed light that we have actually been around way before other emerging areas came into the picture, and I'd like to understand why we are undervalued and looked on as people who just spend money. That bothers me. Of course it does. For good reason.
"There are several couture houses that almost take pride in the fact that the designer doesn't sit down with the Gulf customer that is ordering a couture dress from scratch," she says. "I see these designers hanging out with people who don't buy anything, so you tell me. I have to say, I don't really blame the designers in this instance; I blame the customers for taking it. Does the Gulf client like the privacy? Yes, they do. Do they want to be announced? No, they don't. But I need them to be valued and appreciated, and it doesn't have to be in a public manner. And they are not. And I'm sorry, but I really have a big problem with that."
Vogue Arabia has already launched online, Vogue's first-ever digital-first edition (it started up this past October). So far, the site looks similar to other vogue.coms — a mix of fashion and culture and celebrity coverage. The first original feature was a film by Elisa Sednaoui, a model, in conversation with the designer Elie Saab in his elaborate, romantic gardens in Beirut. It was followed by footage of Gigi Hadid speaking Arabic and another film by the photographer duo Inez and Vinoodh, as well as ten to 15 posts a day on topics including Alicia Keys's best turban moments, a new, hijab-friendly hair salon in Brooklyn, and which "nude"-color shoes work best with olive skin. Early pages from the print edition of Vogue Arabia indicate that the clothing featured lies somewhere between the British and French Vogues where modesty is concerned. (The French still love nothing more than printing a nipple; the British and Americans do not, and tend, in the end, toward a fairly conservative ideal.) Abdulaziz is looking for models who reflect the region, a task she concedes is difficult, as many Muslim families see the profession as "one step from harlot," but as the world changes, she is hopeful that this, too, might change.
The magazine was not, of course, some blind bet; the region's luxury-retail sector has been booming for a few decades, as Abdulaziz (or anyone who has shopped along the Rue du Faubourg Saint-Honoré in Paris or the Via Montenapoleone in Milan) could tell you — a rival to the Asian markets for couture businesses ever more reliant on non-Western clients. According to Thomson Reuters, Muslim consumers spent $243 billion on clothing in 2015 (11 percent of the global market); the figure is predicted to reach $368 billion by 2021.
Almost every major luxury brand has a big, flashy presence in the Arabian Peninsula, and Dubai in particular has become a great destination for luxury-product launches: Chanel unveiled its cruise collection in Dubai in 2014, when Karl Lagerfield called the city "the next step, the new reality." Marc Jacobs launched a fragrance, Decadence, at the Dubai Mall with Adriana Lima and threw a party on the 31st story of a big hotel there, and when Swarovski wanted to stage a show of couture pieces in honor of its 120th anniversary, it did that there, too. It's a fashion-friendly place, even in the instances where the only visible items are handbags, shoes, and nails, a place where shopping is sport and outdoor promenades are increasingly being replaced by zillion-square-foot indoor malls.
But the road to a magazine was not straightforward. In 2007, a Middle Eastern publishing conglomerate approached Jonathan Newhouse, the head of Condé Nast International, about launching an Arabian edition to serve the Gulf region. He rejected the idea in an email that was quickly leaked to an Emirati newspaper, which published it in full — evidence, to many in the Middle Eastern elite, of a kind of pervasive Western Islamophobia according to which the region is perceived as monolithic, reactionary, and sexist (and which takes no account of the elite's globe-trotting extreme wealth and opaque-to-Westerners cosmopolitanism). Newhouse's email acknowledged that the area held many potential readers but warned that they "unfortunately live in the same general region as some of the most militant and violent elements … Within the Arab world, or to be more accurate, the Muslim world, there is an element which accepts Western values. There is also a powerful fundamentalist, religious element that rejects Western values. This element rejects freedom of expression, equality for women and expression of sexuality, to name three values associated with our publication … Our company has no wish to impose its values on a society that does not fully share them. And we do not wish to provoke a strongly negative, even violent reaction … So I will simply avoid it by never entering the market. And I will sleep better at night."
Whatever the politics, the logic of that market could not be ignored for long, and the opinion of Condé Nast evolved. It began testing the market in 2013 with Condé Nast Traveller Middle East and later a local edition of Architectural Digest, both published with a licensing partner in Dubai. They were successful endeavors, getting some material from syndicated international editions and creating the rest with a local staff. And with its new restaurants division, Condé Nast had already begun to expand into the region with the Vogue Café, a little velvet-roped rectangle within Level, a 96,000-square-foot shoe store inside the 6-million-square-foot Dubai Mall. At the Vogue Café, you can order a "Vogue Superfoods Salad" or enjoy the finger sandwiches that come with the "Quintessential Vogue Afternoon Tea" in the shadow of a chandelier made of iconic covers of Vogue Italia.
"By having a presence in the Middle East already, we had a better understanding of the region, its challenges and intricacies," explains Karina Dobrotvorskaya, who runs the new-­markets division of Condé Nast International. "There is a huge appetite for luxury and for fashion, impressive local fashion talent, amazing digital penetration and social-media engagement. While the region has long been very conservative about women in public, it is getting more open, and younger Arab women in particular are getting out in the world more." Designers have already caught on: Dolce & Gabbana launched a collection of abayas last year, using the same luxurious fabrics as in the main collection. They are available at Harrods (where, incidentally, Abdulaziz met her husband, with mutual friends, in the food hall) in London for between $3,000 and $7,000. Net-a-Porter features a Ramadan edit (Valentino silk pajamas, Oscar de la Renta maxidresses, many of them in the four-figure range), and on the lower end, Uniqlo offers a collection of well-cut, inexpensive tunics and hijabs.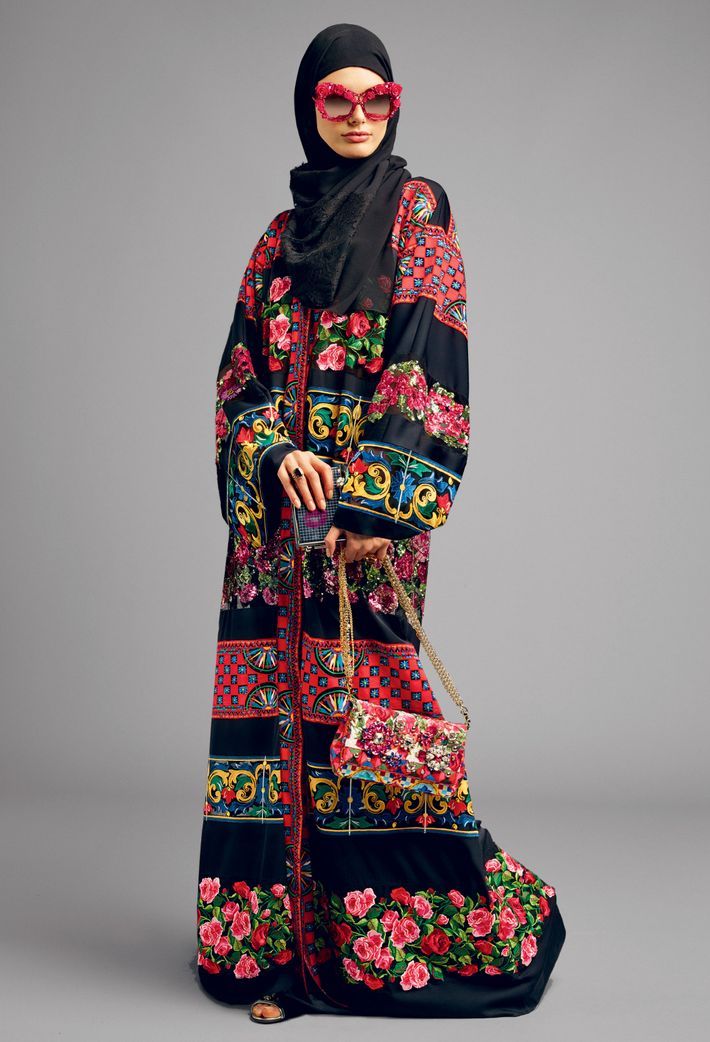 I first met Abdulaziz in 2004, outside Barneys in New York. She was well dressed but normally so for the neighborhood, an uptown woman out for a stroll in expensive but quiet versions of things: a Prada T-shirt, Miu Miu shoes, an Hermès bag. I was scouting for a photo shoot for this magazine's "Look Book," and we stopped her and asked her to pose. She declined at first, citing privacy concerns to do with her family. A picture in a magazine? Never! But her husband, the Saudi prince Sultan bin Fahad bin Nasser bin Abdulaziz, whom she married in her early 20s, encouraged her, and we took her picture right there on 61st Street. She was a young stay-at-home mother of three who traveled regularly between her home in Riyadh and New York. She wore a ponytail and enjoyed the occasional hot dog. Within a few years, she was attending fashion shows in Paris and Milan; she had opened D'NA, a members-only boutique in Riyadh dealing in designers previously unknown in the region: Acne, Haider Ackermann, Marni.
"I had always wanted to be an editorial stylist," she says, "but no job as such existed in the Middle East. It wasn't realistic for me to even think of moving full time to the United States to become a stylist, but I always had that itch. That was my ultimate dream. I mean, come on! That Polly Mellen story with Avedon and Nastassja Kinski and the serpent she's putting on the cuff and not putting on the cuff? Stop." Her knowledge of photo shoots is almost scarily comprehensive. She puts out her hand, closes her eyes, clutches her chest, lowers her voice to something between a purr and a growl. "Looove." But she's gotten off track. She physically shakes herself back. "But that was not realistic, so it was like, Okay, what are we going to do now? I thought maybe the closest thing to being a stylist was to intern for a department store. I tried to get hired as an intern at a department store in Riyadh, but the head buyer would not hire me; she said I was overqualified. So I had this conversation with my family and they said, 'Why don't you do it? We're going to support you.' My father invested in my business and he said, 'You will succeed.' Trust me when I tell you I had no business plan. I was like, 'I'm just going to do it,' and that's exactly what I did."
The business was, almost immediately, a success. "It came very naturally because apparently it takes me 15 minutes to know exactly which looks I'm going to order. I thought it came naturally to everyone! But no, I just have it. A hunch. Because I was selling to my society. And nobody understands that world. Most buyers at that time, and to this day, were nonnatives, and that is actually a big problem. They are American, or European, or even if you're from the Middle East, the region is so big you just might not get it right. If you've got a Lebanese buyer buying for an Abu Dhabi client, they're not going to get it. Me? I'm there, I'm going to the same parties, I'm selling to my friends."
When Abdulaziz is home in Riyadh, most socializing is segregated by sex, she explains, which means the fashion stakes are even higher. "Let's face it," she says, "who do we really dress for?" At these female-only parties, members of the country's elite often wear full, current runway seasons hidden beneath abayas until the doors are closed, and some of the women in Abdulaziz's set even employ makeup styles to replicate the accompanying runway beauty. "She told me, 'Every single night, it's basically the Met Ball,' " says one American friend who visited Abdulaziz in Riyadh.
"You're never going to see an Arab girl trying to look like the French — lank hair, no makeup," Abdulaziz explains. "I mean, no. That is not what we do." She laughs. "Who thinks it looks better to not wear makeup?" She shakes her head at the inanity.
As Abdulaziz traveled the fashion circuit on behalf of D'NA, her style became more adventurous. She got a very short haircut, began wearing the exaggerated silhouettes of designers like Rosie Assoulin and Rodarte. But that was happening to everyone on the fashion circuit then. The street-style photographers demanded an upping of the game, and Abdul­aziz was one of the women happiest to comply, always impeccably groomed and dressed and endlessly photogenic. She became the face of the Middle East to many who had only a vague sense of the region as a place where much fashion was bought, sold, and worn. She dressed modestly, by the standards of the fashion world, but never, in the West, in an abaya or a hijab. Here was a woman fashion women could relate to, and her high profile made her an obvious choice when Condé began hunting for someone to helm its magazine. She sold her boutique (which had expanded with a second location in Doha) and started commuting to the magazine's offices in Dubai in 2016.
Many members of her social circle in Riyadh are somewhat scandalized by the public figure Abdulaziz has become. "You have to understand," she says, "it's still basically like Mrs. Astor's 400, or whatever that was. Everyone loves to be private." But, she points out, her teenage daughter's friends (many of whom are in the process of applying to American and European universities) "think I rock."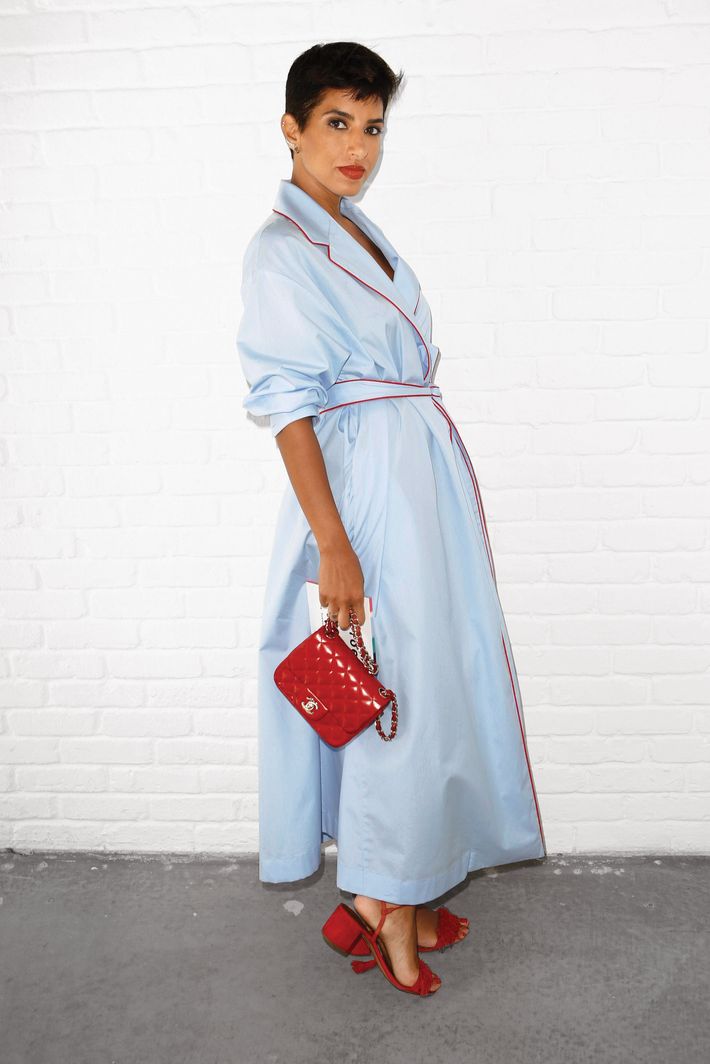 The Dubai Design District is a low-slung, semi-finished office park off a highway near downtown. The ground level has been leased to restaurants, cafés, and boutiques, and the upper level, the thinking goes, will be where Dubai's creative class takes office space. There's a concept store called Lighthouse, which sells pretty books and design objects and bars of Mast Brothers chocolate, and outside of that is "Runbase," an Adidas-sponsored fitness pop-up where exercise classes take place on the roof and cheery American voices can often be heard shouting instructions through a loudspeaker about bending, extending, and engaging one's core to the instrumental bits of Beyoncé songs. The crowd is dizzyingly international and dizzyingly well-dressed — as far as I can tell, anyway, there are more covered women on Atlantic Avenue in Brooklyn than there are in the design district, and it's all so go-go, all so like the office on a beautifully cast sitcom, that it's momentarily disorienting to notice that the menus have no alcohol.
Vogue's offices are in Building Nine, which is anchored by the Harper's Bazaar café (which has paleo- and South Beach Diet–friendly selections on the menu), within the headquarters of Nervora, the local company that succeeded in purchasing the license in 2016. Nervora is run by Shashi Menon, a 31-year-old Indian-­American from Southern California who began working in the UAE straight out of college as a consultant. He liked the lifestyle: His first employer put him up in five-star hotels and hooked him up with a nearly unlimited travel budget, all of which was a dream come true for a brainy 22-year-old who was excited to see more of the world. He transitioned into working with the government of the UAE on initiatives to bring media companies to the region — CNN, for example — but eventually found working for the government too slow, so he recruited his "nerdiest" friend from California, and together they launched Nervora, initially as a middleman securing local advertising for foreign websites. Condé Nast was the first publisher they signed up, and the first ad they sold was Chanel. "It was such a small market," he says, "the inventory was basically a throwaway. It was either unmonetized or undermonetized, and we basically said, 'Hey, we have a no-risk way for you to go make some money from an area you don't even care about.' "
In fact, Menon might be as important a part of the Vogue Arabia story as Abdulaziz. By 2012, he had persuaded Condé Nast International to let him publish an Arabic version of style.com, with the assumption that he would syndicate at least a third of its material from the American version. Within two months, they were publishing 100 percent original content. "It turns out that it was important to come in and feel indigenous," Menon says. "We didn't want to be perceived like a big Western brand trying to dictate a Western cultural framework on a region that is quite different. Everything was more successful when we did it from our own point of view. The terminology can be a little different, the point of view that you take, the cultural references, the idioms … There's just so much nuance to how language is used, and very subtle things can make a big difference." Focus on the Hadids, for example, instead of the Jenners. Understand the relevance of the eyelash in beauty posts. And on and on.
Menon continued publishing style.com/arabia. But in 2015, Condé Nast announced that the original style.com would close and then reemerge as an e-commerce site as part of that company's desire to change its digital game. While Condé Nast migrated style.com readers to vogue.com, Menon prepared to do the same with his license: He kept his style.com readers as long as he could, and then began redirecting them to Vogue Arabia. The reader base was there, he knew; he'd already floated a trial balloon. "In a lot of ways," he says, "it was like giving birth to a teenager."
As the Vogue brand has evolved worldwide — Arabia is its 22nd edition — its relationship to the industry it covers has changed. It no longer exists to report on the industry so much as to bolster it, work in tandem with it. The Fashion Fund model, which began in New York under Anna Wintour, in which young designers are mentored by veteran members of the industry, now exists in many of Vogue's markets, including the Middle East, and Abdulaziz takes her mission as a mentor seriously. She wants the world to know her friends, in particular the young women with their own businesses. ("My friend was just appointed to a very high government position in Saudi Arabia, and it's not so uncommon," Abdulaziz says with a certain amount of frustration. "But you will not hear about that!")
She again brushes off suggestions that her intentions are political — "I respond to talent!" she says — but many of Vogue's potential readers are excited by the idea of a magazine with the desire to show off the work of Arab women. Of course, the correction to Western prejudice represented by Vogue Arabia is itself a quite narrow one: For all of the potentially "feminist" implications of such a publication, Vogue is, as a brand, fundamentally about, and for, the elite, perhaps even more so in an Arab world so deeply divided between the jet set and the parochial poor. But still, the feminist instinct and the sense of sisterhood are strong. "My friends and I were talking about Vogue Arabia over dinner last night," says Sunny Rahbar, the co-founder of the Third Line Gallery. "We thought it would be amazing if the first six covers were all clothing by Arab women designers."
In that spirit, Abdulaziz takes me downstairs to meet Nathalie Trad, a 31-year-old Lebanese handbag designer whose offices happen to be in the building. "She's kind of like my fairy godmother," Trad says of Abdulaziz. "Well, it's because I like the product!" Abdulaziz says. "And let me tell you that one night I was having dinner with my late friend Zaha Hadid and she said, 'What is that?,' and I emptied it out and gave it to her and then I texted Nathalie and said, 'I'm sorry to inform you, I have lost your sample. But wait till you hear who has it!' "
"I certainly did not mind!" says Trad.
Next we're off to the designer Faiza Bouguessa's offices on the 18th floor of a high-rise downtown. Abdulaziz has been a big supporter of the brand since it began.
"I had this concept to merge cultures," says the blonde-haired Bouguessa, "through a line of clothing inspired by the traditional, long silhouette. There were either custom-made, very luxurious abayas or ready-made, cheap abayas — there was nothing in the middle. No ready-to-wear, elegant store for that. Some of my clients hate the abaya, but the love of the culture is still very strong."
Last September, Abdulaziz wore a floor-length oxford-blue wrap dress with cherry-red trim to the Proenza Schouler fashion show in New York. She paired it with red Aquazzura wild-thing sandals and a red Chanel bag, and her photograph was published in British Vogue. Although Bouguessa had not yet set up her e-commerce website at the time, her office was flooded with phone calls requesting the garment, and it immediately sold out. How many of the women bought the dress because it was an abaya, and how many in spite of that, didn't really matter in the end: It had been a tremendous boon for Bouguessa. "There's such a potential for that internationally," Abdulaziz says, like a proud mother. "There are millions of women who dress modestly and love fashion. And here's the thing about abayas, here's the thing about hijabs: How do I feel when I wear them? Honestly? It's a chic garment. I feel like Grace Kelly."
*This article appears in the February 6, 2017, issue of New York Magazine.