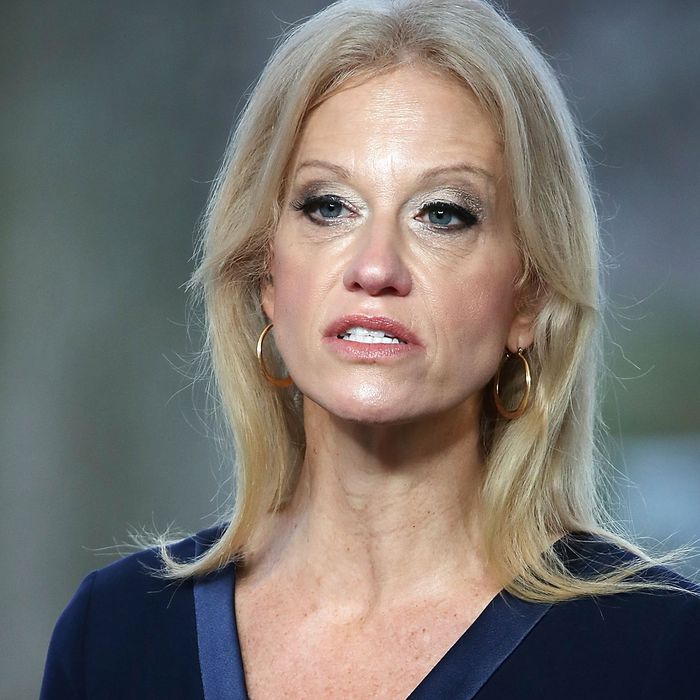 Kellyanne Conway.
Photo: Mark Wilson/Getty Images
Kellyanne Conway was hit with a formal ethics complaint on Thursday, shortly after the counselor to the president urged viewers of Fox & Friends to buy products from Ivanka Trump's line. Filed by the watchdog Citizens for Responsibility and Ethics in Washington with the Office of Government Ethics and White House Counsel's Office, the complaint claims Conway's remarks violated federal law and ethics regulations.
Conway appeared on the Fox program the day after Donald Trump lashed out at Nordstrom on Twitter for dropping Ivanka's line. During the interview, Conway called Ivanka a "champion for women empowerment, women in the workplace," before adding the line, "I'm going to give a free commercial here. Go buy it today, everybody."
According to the complaint, Conway made the comment while acting in her official capacity, since she was introduced as "special counselor to President of the United States." Conway's interview was also filmed in the White House briefing room, with the presidential seal visible behind her. "The law is clear that public officials should not use their offices for their own private gain or the private gain of others," CREW Executive Director Noah Bookbinder said in the statement. "It's hard to find a clearer case of that kind of misuse of office than we saw today."
The complaint states, "Federal ethics regulations concerning the 'use of office for private gain' clearly prohibit any employee from endorsing 'any product, service or enterprise.'" On top of that, an example provided in the regulations specifically says a government employee "may not appear in a television commercial in which she endorses" a product. "By explicitly endorsing Ms. Trump's products, Ms. Conway appears to have violated these regulations," according to the complaint.
The watchdog also states that it is "concerned" by a pattern that appears to be developing, as the White House and Executive Office of the President seem to be using official offices for the private business gain of President Trump's family and supporters. "We hope you will act not only to respond to this apparent violation, but to reverse the pattern," the group wrote, adding that an investigation into Conway's conduct should be launched, and any necessary disciplinary actions should be taken against her.