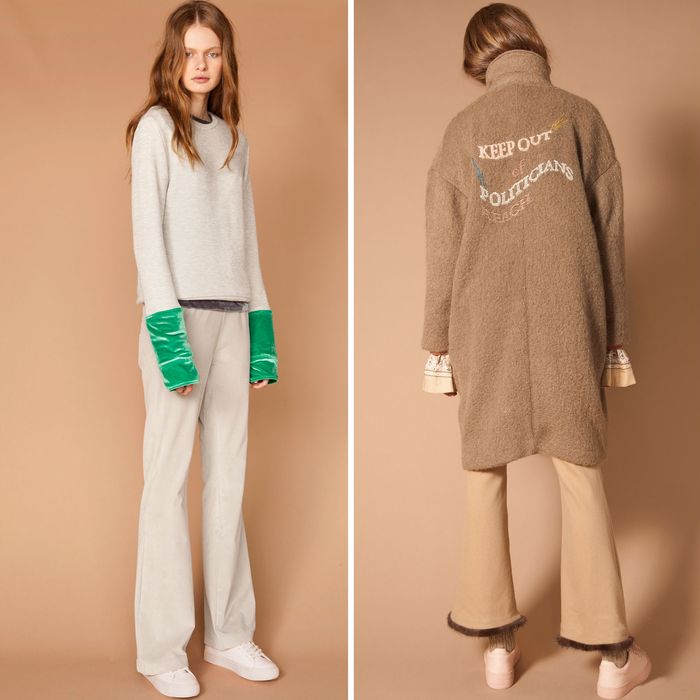 "It's a great statement, for the moment, you know? Not pointing the finger, just generalizing," Edwin Lora is talking about a camel coat with pastel embroidery that reads "Keep Out of Politicians' Reach." That wistful and impossible sentiment has made it one of the most Instagrammed pieces in his collection, Water, which features embroidered slogans executed in muted tones.
Lora and his co-designer Zion Lora make the label in downtown Los Angeles, but — in a reverse of the East to West Coast migration we've been witnessing this season — they brought their wares with them to New York to show editors this week. Edwin has always been a vintage aficionado, with a particular affection for the '70s — at one point in our conversation, he gets nostalgic for Earth Shoes worn with corduroys. After stints at Free City and Ron Herman, he set out to "try to get to that vibe of that nostalgic vintage look."
In keeping with the era, Water's pieces are far from mass produced — they are carefully distressed using (what else) water instead of harsh chemicals, and are hand-embroidered by a small team in his L.A. studio. Edwin calls the concept "hand against the machine," or, in a nod to his Cuban heritage, "mano versus machine." He and his team try to mimic a bygone, homespun style of production, he says, "versus today, where people are just trying to cram a pattern into a marker."

This season, he and Zion were inspired by attending a friend's wedding in Jamaica, where they kept running into acquaintances in ultracasual off-duty looks. "We see [these] people in the business world, where they [look] totally different and then you catch them off guard in Jamaica," Edwin says. They channeled that concept into relaxed pieces with luxe touches, like cropped, flared pants with mink trim or an elevated gray hoodie with bell sleeves. One look is embroidered with the motto "Hello Stranger," because the two kept thinking of those words while running into one unrecognizable acquaintance after another. There's also a very California element — phrases like "Miles From Nowhere" evoke a certain West Coast sense of leaving it all behind.

While there's plenty of velour in the collection, don't get them confused with L.A.'s more mainstream purveyors of zip-up tracksuits. "No booty huggin' sweats here," promises Edwin. "These are loose, lounge, and lax." It helps that the clothes are styled chicly, with, for example, a pair of Furkenstock-like sandals worn with thick socks. Zion, a former buyer, "knows how to put it together so it doesn't look too 'pajama,'" Edwin says. And don't mistake their designs for athleisure either: "This [customer] doesn't exercise. This person doesn't sweat."
While the loose, comfortable silhouettes would fit in well in Silver Lake or Bushwick, the duo has set its sights beyond those outposts. The brand already sells throughout Europe, and Edwin notes: "One of our main goals is to make a Parisian wear a pair of sweatpants. And we're on our way."