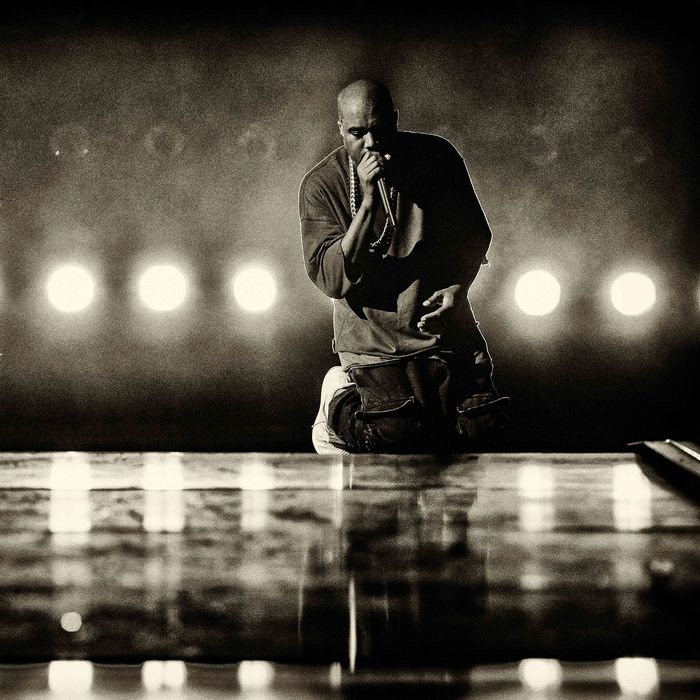 Kanye West.
Photo: Christopher Polk/Getty Images for iHeartMedia
If looking for clues as to how to become the most highly realized version of yourself, you could do worse than turning to the lyrics of the renegade poet-saint Kanye Omari West. In "Gorgeous," the second track of his best album, he declares: "I was looking at my résumé feeling real fresh today/They rewrite history, I don't believe in yesterday." This, as Genius commenters note, provides a glimpse into how someone as successful as Kanye stays so aggressively creative: Recognizing that critics can tear down his accomplishments, the man just keeps going.
While I can't say whether Stanford researcher Szu-chi Huang is a big Kanye fan, her latest research, upcoming in the Journal of Personality and Social Psychology, has a certain Yeezy quality to it.
In a series of experiments, she and her colleagues found that when people feel they're ahead, they tend to let off the gas. In one case, participants who were playing a memory competition studied more when they were ahead early on, but studied less if they were ahead late in the game. Indeed, on self-reports, they said they thought it'd be easier for them to win at that point.
In another experiment, 2,500 students from two campuses of a public university were recruited to participate in a six-day book-donation drive. On the fourth day, some students on both campuses got a notification that "signups at our campus are still 10% lower than our best year." The tactic was effective: On the leading campus, the group of students that got the notice had about double the participation rate and books donated per person compared with the unnotified group.
The takeaway: "By focusing on another standard that's higher than where you are, you're able to sustain motivation," Huang said. Consider this an addendum to Kanye's willful amnesia: Even if you don't believe in yesterday, holding yourself to standards beyond the thing you're doing right now can keep you from tapering off.