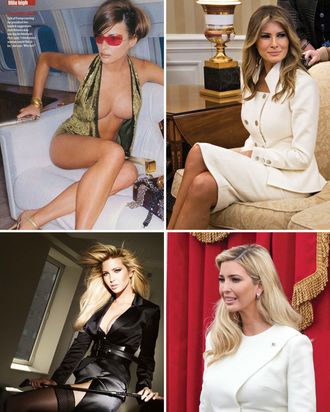 Top Row: Melania Trump in British GQ in 2000 and in the Oval Office on February 15, 2017; Bottom Row: Ivanka Trump in Arena magazine in 2007 and at the Inauguration on January 20, 2017.
Photo: Andrew Harrer-Pool/Getty Images/Anthony Behar/SIPA USA via AP Images
It's been a rough month for the Trump women and their ability to, as Melania's representatives put it, "launch a broad-based commercial brand" that could garner "multimillion-dollar business relationships." The news that Nordstrom would be walking away from Ivanka Trump's clothing brand after it said "sales have steadily declined," was, at the very least, a public-relations blow to Ivanka's brand, which insists that business is booming. And in Melania Trump's lawsuit against the Daily Mail for suggesting that she worked as an "elite escort" in the "sex business," she emphasizes the potential damage to her ability to cash in on a situation (being First Lady) she sometimes appears to only barely endure.
Despite their similar physical presentations (long legs, long hair, big chests, fitted clothing), Melania and Ivanka have sought to establish incredibly different brands, particularly in the years since Ivanka's conversion to Orthodox Judaism. At present, they've got a Betty-and-Veronica thing going on: Melania is the mysterious brunette whose pre-politics work as a model centered on bikinis and lingerie, private jets, and what might happen when one gets naked on top of a large fur throw. Once she posed in sunglasses, underwear, and boots with a handgun on the wing of an airplane; in another shot she was in a swimsuit on a white leather banquette inside the same jet with a briefcase full of jewels. The message was always sex — dangerous sex, and not-­traditional-matrimonial sex.
After Melania got married in 2005, she was photographed inside her gilded penthouse pushing a gilded pram. If her brand to this point has been about the relationship between sex and money (bathing suits plus jets plus golden rooms plus fur), the new turn was suggesting that the right marriage (or, perhaps, high-stakes, in-your-underpants jewel heist) would enable you to cover your apartment in gold leaf and spend afternoons in nothing but your husband's big tuxedo shirt. Her husband's stated positions on gender support this notion — "There's a lot of women out there that demand that the husband act like the wife … It's just not me" — and once upon a time it was an idea the Trumps seemed proud of. Back when the family exhibited a sort of in-on-the-joke, gleeful knowingness about themselves, Melania is said to have answered the question Would you have married Donald Trump if he wasn't rich? with "If I weren't beautiful, do you think he'd be with me?" So little has been seen or heard from Melania, both during the campaign and since the inauguration, that there hasn't been much to indicate a new direction as First Lady, apart from one halfhearted mention about the problem of cyberbullying.
By contrast, the current version of Ivanka the Brand is based, oddly, on chastity. Today's Ivanka seeks to present herself as pure. Her social-media posts frequently include her children, always bathed in conspicuous markers of Good Taste. And she has consistently pushed the idea of herself as a "passionate advocate for the education and empowerment of women and girls," though there hasn't been much meat in that sandwich as of yet, just ­cutting a campaign commercial in which she described motherhood as the most important job a woman can have, then quitting the company she founded in ­order to move to Washington to support her husband and father in their official capacities, but nevertheless turning up in the Oval Office for photo ops despite having no official White House role. Before her marriage, things were different. Back then, much photography of Ivanka ­focused on her body, her chest heaving out of dresses and over the boardroom table, or with a businesslike suit hiked up to ­reveal the top of her stockings, and, once, with a leather riding crop in hand. She posed oiled up in a swimsuit on a construction site for Harper's Bazaar, a pneumatic drill placed suggestively between her legs. In another photograph, she lounged on that same site in a ballgown beside topless men in hard hats. It all read like an ad for an office-based porno — "Would you like to inspect my documents, sir?" But since Jared, Judaism, and motherhood, she has sought something else — something about being a modern-day working mother who has no problem raising three children on a series of white couches. She publishes odes to her husband and delights in her young son crawling for the first time inside the White House while she wears a black turtleneck and pants. Her signature Eau de Parfum recently hit No. 1 on ­Amazon's best-seller list, with the roll-on version not far behind.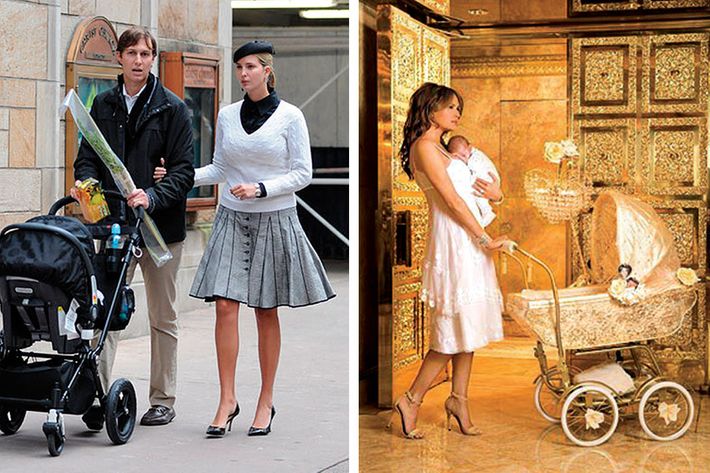 Ivanka has had a certain amount of success marketing herself, particularly when the price point is low (her fine-­jewelry line was recently dropped by Neiman Marcus, which cited poor sales). But even ardent fans of the brand itself would be hard-pressed to describe its offerings as original (she is currently being sued by Italian shoe brand Aquazzura for copyright infringement involving the claim that her namesake company has produced direct copies of at least three Aquazzura designs in Chinese factories). Her successes have always been a matter of branding as opposed to a reflection of good design. The Ivanka customer could certainly do just as well at Reiss.
Before the election, Melania's attempts to monetize herself had been rocky. Her first foray was "Melania Timepieces & Jewelry," a line that launched exclusively on QVC in 2010, which she described as affordable versions of her own expensive stuff (it was all manufactured in China). It was widely reported that the line sold out in 45 minutes. In 2012 came the foray into"caviar-based" anti-aging skin care, which she described testing on her young son, Barron, and also hawked to Dennis Rodman on Celebrity Apprentice. This line began as a venture in tandem with New Sunshine LLC, a beauty company in Indianapolis that also manufactures bronzer for the Kardashian brands and JWoww from Jersey Shore. The owners of that company (friends of Donald Trump's) became involved in a lawsuit against one another — it's complicated and sordid and involves treacherous threesomes — and Melania's face cream faded away.
But the idea that Melania is newly concerned with her ability to make some money in the future raises another possibility, particularly for members of the Free Melania movement: that she might, in fact, be looking ahead to a future where she's consigned to a life dictated by the terms of whatever prenuptial agreement she signed as the third wife of a man who was not yet president.
A post-Donald Melania brand, a ­sister-actually-doing-it-for-herself kind of thing, fronted by an independent ­Melania, a hardworking immigrant who got mixed up with the wrong guy before seeing the error of her ways. Now, that's a brand with potential.
*This article appears in the February 20, 2017, issue of New York Magazine.