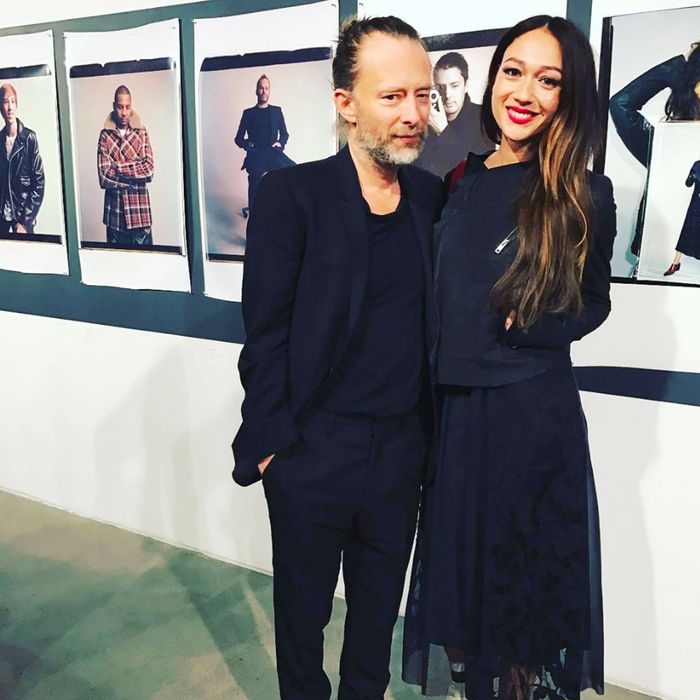 Thom Yorke and his girlfriend.
Photo: Courtesy of Instagram/ragandbone
On Thursday, the first official night of New York Fashion Week, Rag & Bone hosted a party in an expansive, white warehouse on the very very far West Side of Manhattan, but who's complaining. The beautiful and talented Keri Russell was there; the beautiful and talented Thom Yorke was there; we were there. Mostly everyone was there, except noted Rag & Bone model, Taylor Swift squad member, and self-professed No. 1 Beyoncé fan Karlie Kloss. Who was sick, allegedly.
KARLIE KLOSS?
Allie: Kloss has not had the easiest year in terms of publicity. Her longtime boyfriend is Josh Kushner, brother to Jared. She might have to go to the White House or a Marlins game soon, to be polite. And this week, she committed one of the most heinous unforced errors of all time: She told LOVE magazine that she was a "Mega Fan" of Beyoncé, and then she said her favorite Beyoncé song was "Waterfalls." Oh dear.
Kloss has now received thousands upon thousands of tweets and one pointed Us Weekly report about this unfortunate mistake. So perhaps it was not surprising that Kloss did not attend the Rag & Bone party, even though her face was splashed across multiple large screens on the DJ stage. We kept waiting for her to arrive, but she did not. According to her Instagram, she took a "sick day" from life.
Kelly: Aw, yeah, I'm sure she was just sick. Now and then, everybody needs a little T.L.C.
ATTRACTIVE MEN
Kelly: Wow — there were so many attractive men at this event. The coat-check guys were hot. The bartenders were hot. The guys from the Rag & Bone photos on the walls who were walking around in their big winter coats were hot. Thom Yorke was hot. Mikhail Baryshnikov, a.k.a. Aleksandr Petrovsky from Sex and the City, was there and was hot. It was amazing.
At one point, a man walked past us and smiled and Allie said, "Wait, was he smiling at me or you?" And I said, "you!" and she said, "no, you!"
We didn't marry him, but we could have.
Allie: Later in the evening, when we were daintily eating free Tacombi tacos in a corner behind a speaker as fast as possible, a hot waiter came up to us with a tray of free Shake Shack burgers and said, "You should take one!" And we did. I guess I love men now.
MUSICAL ENTERTAINMENT
Kelly: I hate to blow up Allie's spot. I really do. She is my friend, she is my non-blood sister, we are attending fashion parties together for this series. It pains me. I am in pain. But I have to do it.
When I pointed out Thom Yorke at the party she didn't know who he was. And then she asked me what band he was from. After I told her Radiohead, she said that she had been "pretty sure it was Radiohead."
Allie — I am so sorry.
Thom was there to DJ the event, and he did, briefly. The truth is it's hard to get excited about anyone DJ-ing, even if it's someone who was the biggest and most important celebrity you could have ever imagined in high school. He was good, though.
Allie: I did recognize Transporter 2 star Amber Valletta.
MODEL MOMENT
Allie: Perhaps the most important thing to know about the Rag & Bone party is that every attendee was legally a model except for us. Karlie Kloss would have been right at home in this environment, had she not been suffering from a terrible plague. To cater to this blessed crowd, the party planners hired a photographer to take headshots of everyone as they left, and after some amount of tequila and champagne, Kelly and I got in line to try it.
Kelly: It was incredible watching the beautiful women have their photos taken. Pose-pause, pose-pause, pose-pause. So confident. So fluid. So much like me and Allie, who were next.
Our photo shoots, I would say, went "…fine," said in a way that makes it very clear the long pause before the "fine" indicates something slightly negative. The photographer gave us direction, but the room was very loud, and the light behind the photographer was very bright, and do you know that it is very hard to take direction from a photographer? Also everyone waiting to get their photos taken was watching us. It was very lucky about the tequila and champagne.
Anyway. Our pictures ended up being nice. I love modeling!
Allie: It is sweet that they are going to let us take over Karlie Kloss's contract.
Rag & Bone Brand Exhibition and NYFW Event Party Review: Hot Party