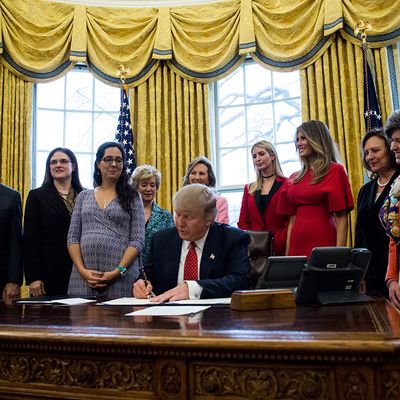 Trump signing H.R. 321 and H.R. 255.
Photo: Zach Gibson/Getty Images
On Tuesday afternoon, Donald Trump signed H.R. 321 and H.R. 255, which direct NASA and the National Science Foundation, respectively, to encourage more women to enter STEM fields.
Daughter Ivanka Trump, who was present (and wearing her most formal choker), tweeted out a photo of the moment.

The photo opportunity included eight other women, perhaps as a way to counter the photo of Trump reinstating the "Global Gag Rule" on abortion, in which he was surrounded entirely by men. (And several photos since.)

After the photo session ended, at least four of the women pictured presumably demanded to speak to a manager.