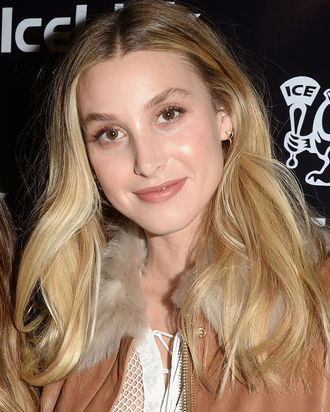 Whitney Port.
Photo: Matt Winkelmeyer/Getty Images
How time flies! It seems like just yesterday that the cast of MTV's The Hills was filming loosely scripted reality TV in California. But as the years go by, we pick up tidbits of information that let us know the cast has been getting along quite well in their adult lives. The latest example comes to us via Whitney Port, who's very, very excited to let us know she's pregnant with her first child!
Port broke the news to her fans on Instagram that she and husband Tim Rosenman are happily expecting a baby in the coming months. For proof that she is, indeed, expecting, Port shared a lovely photo of herself standing in front of a window wearing nothing but a T-shirt and lace underwear — a fact she duly noted:
On her personal blog, Port expanded on the details of the pregnancy, though she didn't specify the baby's gender. She did, however, convey her enthusiasm with many, many exclamation points and some good use of the CAPS LOCK. She also mentioned how she will explain where babies come from to her own future baby. "When two people love each other so much and the love becomes too great to fit inside both people, it spills over into a THIRD person," she wrote. "This is how I am going to explain where babies come from to the little baby that is now growing inside my belly because Timmy and I are PREGNANT!" [*Note the use of only one exclamation point when using all caps.] She also reminded us how many moms find out they're pregnant: "I peed on a stick and now I'm going to be a Mom!"
Congratulations to the happy couple!