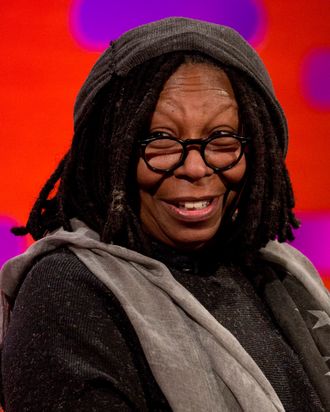 Whoopi Goldberg.
Photo: Isabel Infantes - PA Images/PA Images via Getty Images
Why is The Graham Norton Show better than almost any American talk show? Probably because he groups together stars like Whoopi Goldberg, Keanu Reeves, and Jamie Dornan to riff on their latest projects — and, you know, pubes or whatever else happens to come up.
Such was the case when Goldberg began chatting about her upcoming live show at the London Palladium. "It's about what happens when you don't realize that you have gotten older," she says before launching into a tale about going to a recent Steely Dan show. Things get awkward — for Reeves, at least — when the discussion turns to pubic hair, or as Goldberg says, the "balding pudenda" situation that happens to some women as they age.

"Once where there was an Afro that I could put beads on and braid, there is now Paul Shaffer's head. Empty bald, there we go."