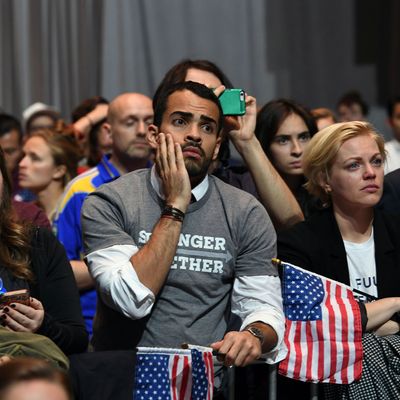 Photo: Toni L. Sandys/The Washington Post/Getty Images
For every year since 2007, the American Psychological Association has been doing a "Stress in America" survey, which serves to track how freaked out the country is. For the longest time, Deena Shanker reports at Bloomberg, stress levels were going down, but then, last year, the slow-motion car crash of the election started dominating everything, and America got anxious.
Last August, the APA added the election to its annual poll. In October, it released its results, and, ta-da, 52 percent of respondents indicated that they were stressed about the vote, Republicans and Democrats alike.
Then, just before the inauguration in January, the APA did another poll, and found the first statistically significant increase in stress since the poll launched, a decade ago. (The poll was of just over 1,000 people, and weighted to be nationally representative, though given how — ahem — off polling has been over the past year, I can understand if you're a little incredulous.)
That said, the political climate was a significant source of stress for 76 percent of Democrats, and 59 percent of Republicans. Millennials and urbanites were (predictably) more discombobulated than their older, more rural-living peers.
If that reminds you of you, there are some things you can do. As my colleague Jesse Singal has noted, consciously seeking out uplifting news, monitoring your social-media habits, and expressive writing can help.