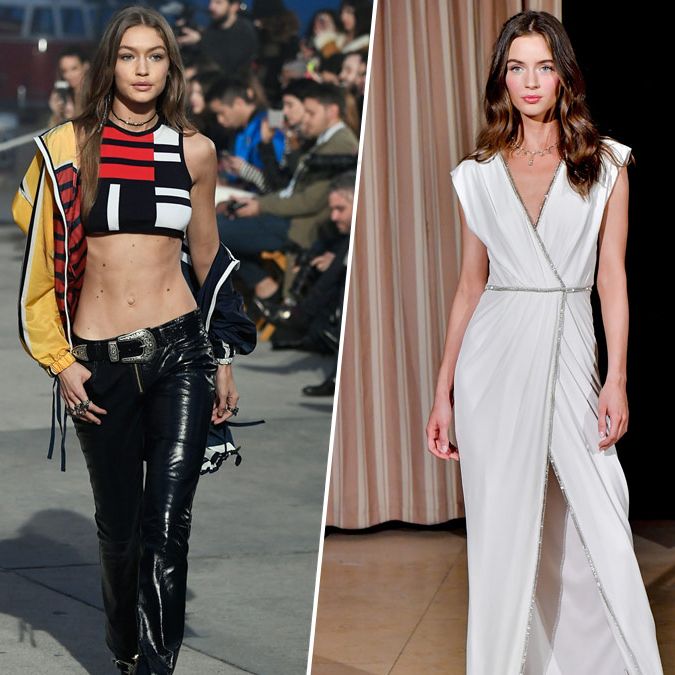 While editors slog through snow at New York Fashion Week, several disparate designers have decamped to the Left Coast. Rachel Comey, Tommy Hilfiger, Rachel Zoe, and Rebecca Minkoff were among the names who recently showed their collections in individualistic happenings in L.A.'s gentler one-event-an-evening schedule. It's not the first time we've seen designers present in L.A. — Tom Ford, Hedi Slimane for Saint Laurent, and Stella McCartney have all done it before — but this season the city witnessed an unprecedented amount of runway activity.
Take Vetements, one of the hottest tickets in fashion right now: The Thursday night street party and opening of Vetements Dry Cleaning Laundry and Alterations (as the collective's one-night-only pop-up was called) was a feeding frenzy, with lines extending around the block and customers snatching exclusive Beverly Hills–themed pieces off a rapidly rotating dry-cleaning rack. That the collective is casting an eye on L.A. speaks volumes about the city's importance as a market. Once a bandage-dress infested backwater, Los Angeles is coming into its own as a serious fashion destination, attracting serious talent in the process.
Every week, it seems there's another desirable retail destination on the map. Raquel Allegra, who also hosted a dance party–presentation of her new collection last week, opened her store in West Hollywood last summer; French favorite Vanessa Seward inaugurated her new Melrose Place location shortly thereafter; and Vanessa Traina's dangerously well-curated The Line set up a sunny shop on the same street in late 2015. Not surprisingly, designers are relishing the opportunity to merchandise their wares in more capacious venues than those available in New York, and shoppers seem to appreciate the redirection.
The land of possibility, it turns out, is also the land of instant gratification. Clothes available for immediate purchase has been a popular theme for the season's L.A. offerings. The festivities kicked off last Saturday at the Grove in West Hollywood, where Rebecca Minkoff's collection was available to buy immediately — literally — at an adjacent pop-up shop. Guests were various and sundry: Erstwhile Bachelor hopefuls mingled with the likes of Lauren Conrad and Chiara Ferragni. Mallgoers and employees, meanwhile, pressed up against the glass windows of Barnes & Noble and the Cheesecake Factory to get a look at the action.
"L.A. has one of our densest customer populations, so we thought, 'Why not go to where she is?'" the California-born Minkoff — who opened her first store here last year — said backstage.
The next night, Rachel Zoe presented two collections (both evening looks from Fall 17 and a buy-it-now capsule, "ode to Hollywood glamour") over dinner at the Sunset Tower hotel in West Hollywood. Zoe's a New Yorker by birth, though she moved to L.A. 13 years ago and clearly has it in the blood. "I feel like I've been in this California state of mind my whole life," Zoe said backstage before the show. "I've been showing in New York from the beginning, and it was time to try something different — my family's here, my headquarters are here …" And, as she said after the models' final walk, "Showing here feels like home."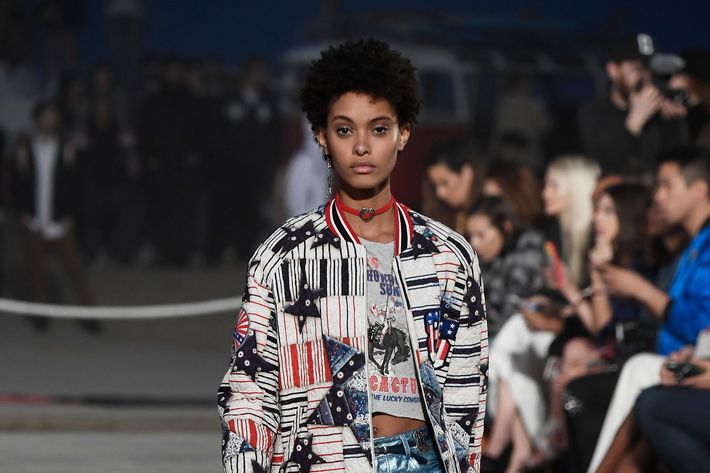 Rachel Comey held her show-dinner the following night at the newish megagallery Hauser Wirth & Schimmel downtown. She took a political tack this season, showing harnesses layered under sheer tops and camo jackets she'd made for the Women's March, emblazoned with the Latin "Si Vales, Valeo" ("If you are strong, I am strong")."For a long time I made very androgynous things and this time I wanted to make very female-strength pieces," Comey said, noting the current political climate.
Comey says the L.A. market represents her second-largest customer base after New York (the other designers interviewed also emphasized its significance), an indication that local tastes are tending far beyond Louboutin platforms and flip-flops. In the past few years, more and more major fashion PR firms (KCD, Karla Otto) have opened West Coast operations (PR Consulting has had one since 2013), importing veteran staff from New York to run the show. And the rise of buzzy new brands — including CFDA winners Brock Collection and Irene Neuwirth, fine jewelers Spinelli Kilcollin, and the tenure of veterans like Tom Ford — proves that L.A. can, in fact, be an incubator of cool and forward-looking fashion. Local appetites seem to be demanding as much.
And then there was Tommy. Another see now, buy now show celebrating Hilfiger's latest collaboration with Gigi Hadid, the "Tommyland" carnival welcomed some 3,000 guests to a huge swath of land near the famous Venice boardwalk. There were fire dancers, hula-hoopers, fairground rides, and a post–Super Bowl Lady Gaga. There were pop-up shops galore, booths where you could customize your runway purchases with patches, and Gigi lollipops.
Like Vetements, Kenzo is a French brand — but designers Carol Lim and Humberto Leon both have strong ties to L.A., having grown up in the area, and opened their second Opening Ceremony store here back in 2007. The occasion this week was a screening of the duo's new Kenzo video, a politically charged short directed by Kahlil Joseph, starring Tracee Ellis Ross and filmed in Los Angeles. Leon hinted there might be more West Coast activity on the horizon.
And why not? Where New York Fashion Week is notoriously a blur, it is impossible to overstate how dramatically different each act of the L.A. moment was from the rest. After all, in the land of possibility, you can be whoever — or whatever — you want.