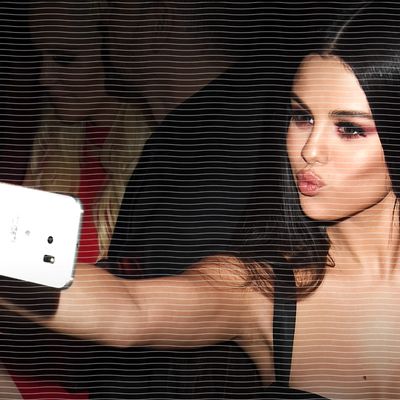 Do you think Selena Gomez has time for Botox?
How's this for a 20-something story: At times I'll take a selfie, but only when I look good. The looking-good part is measured by the hair, the lighting, the outfit, but most importantly, the makeup. There's the concealer I pat under my eyes and around my nose; the foundation I blot over the bulk of my face; the under-eye brightening powder to counter drabness; the honey-tinted powder I apply to my nose and forehead to muzzle the camera flash; the sprightly yet subtle blush on my cheeks; the bronzer I swirl around the circumference of my face so I appear radiant or whatever; and the brow pencil because everyone knows naked brows look puny and lonesome on an iPhone screen. I cap it all off with a few mascara strokes and a quick swipe of lipstick. And then click, edit, post.
Millennials like myself have no use for the anti-aging industry. Here's why.
Searching for quick fixes to generate camera-ready faces has encouraged millennials to buy more makeup than ever. We're a little vain, and that's okay. Within the $13 billion cosmetics market, millennial women stand as the most dynamic spending power, accounting for 47 percent of all heavy-buyer purchases (heavy buyers are defined as those who purchase ten or more cosmetics). In turn we've invested less in skin care, and even less within the anti-aging market, whose delayed promises of youth are too slow-paced for our insta-needs. How much do we not give a hoot about anti-aging? Consider this: Millennials are more likely to use lip balm, facial wipes, and acne treatments before they reach for a tube of anything that promises to harness youth. As a result, the anti-aging sector has continued its steady five-year decline (sales have fallen from roughly $2.2 billion in 2010 to $1.9 billion in 2015 according to a report from Mintel). [Note: This study is blocked by a paywall.]
And then there's the other side: the surge of logins on Instagram, Facebook, Twitter, and YouTube. Nearly half of all millennials cruise Facebook every day. A third make a daily practice of glazing over Instagram. Our feed is always a familiar state. We can always count on the celebrity whose celebrity is of dubious origin, the celebrity who is a bona fide movie star — and the makeup artist who works with them both. There's the woman whose career you want. The woman whose body you want. The blogger with the adorable newborn. The college frenemy who found her curls. The reality starlet with the razor-sharp cat eye. And they've all packaged themselves to look perfect on a three-by-five screen. Save for a few holdouts who don't know any better, they've all reached your fingertips in a similar fashion: The lighting was perfect; their makeup was applied with care. And when that wasn't enough, a few swipes on Facetune, BeautyPlus, or moreBeaute2 constructed the smooth, blemish-free skin they were meant to have anyway.
I know this all sounds overwhelming, but looking good and looking young have never been easier. The makeup wizards have made sure of this. In the past few years, beauty brand after beauty brand has launched products written in the social-media vernacular. There are the primers that promise to "blur" and "smooth;" the foundation that calls itself a "photo filter," and the color-correcting "First Light Priming Filter" from Becca, to name a few. Even so, sometimes lifting a hand to make up your face is a drag, for which digital makeup-applying apps like YouCam and Makeup Genius become ideal. They both follow a similar premise where you upload a photo of yourself and poof! Presto! You're wearing a full face of makeup with a flick of a finger (even if in real life you more closely resemble the scary girl from The Ring).
Another reason why millennials don't need the anti-aging industry is because we simply don't trust it. A promise to turn back the clock or an alluring marketing slogan worked fine and well for mom and grandma, but we need proof that something works, and is worth our hard-earned money. We know a shady marketing scheme when we see one and we see it constantly on store shelves. According to a robust study from Mintel, millennials source their information about beauty products from product packaging only 22 percent of the time (compared to Generation X's 32 percent and Baby Boomers' 24 percent). Instead we rely on reviews sussed via Google or YouTube videos from the bloggers we trust.
I should also mention that we're pretty broke. It may be be hard to tell, given our proclivity to 'gram conspicuous consumption at a comfortable frequency, but our pockets are lined with mostly nothing. Adjusted for inflation, millennial incomes are $2,000 less annually than what Gen X workers made. Coupled with student-loan debt that's out of this world, our disposable income is relatively bleak, and that's putting it mildly. In any case, this leaves little room for expensive skin swag like anti-aging creams, serums, or treatments. Generally speaking, makeup falls under cheaper price points than anti-aging skin care. Given the choice between an even complexion now (foundation) or an even complexion (maybe) in 20 years (retinol, antioxidants, creams) we're usually going to stick with the cheap and easy one — after all, we're straightforward creatures who value visible results.
But when we do invest in skin care, we want something fun and inexpensive (think Glossier); we want something to make our pores shrivel (think masks); and we want impossibly smooth skin (think exfoliants). "Millennial women are really interested in skin texture and radiance. More so than wrinkle prevention, particularly since Botox is so readily available and increasingly less expensive. Women are wise to what they can fix with a little Botox versus what that can fix with skin care," Emily Weiss, Glossier's founder and CEO, explained to me. "To try and claim that a skin care product will reduce wrinkles dramatically is something that millennial women are very skeptical of. The millennial woman is focusing more on skin clarity and overall skin health, for example chemical exfoliators that might even out your tone or texture of your skin. Those are things that can be better controlled with skin care. I think there's a limit to a belief in dramatic claims that anti-aging skin care makes."
Where only 18 percent of millennials purchase anti-aging skin-care items, 40 percent double down on acne treatments. The pattern of how we tend to our face, even in skin care, is as clear as an Instagram-filtered face. The things that make us look and feel good immediately are what we buy. And everything else — well, we hardly bother with those at all.
I'm less optimistic that all of this aversion toward anti-aging points to a grander paradigm shift in how we will coexist with wrinkled skin. The thing about millennials, you have to understand, is that we demand a streamlined, attainable experience at every turn. I'm fairly certain this is how Seamless was born; Warby Parker and Venmo, too. When the time comes for our faces to fall I imagine we will reach for the easy solution of injectables more than anything. The practice is becoming ubiquitous as the Dr. Simon Ourians of Instagram transform face after face with the tip of a needle in a matter of seconds. By then I predict Botox and the like will only be moderately expensive — like a set of new highlights or slightly less than the price of a phone. They'll represent the new class of anti-aging that usurps yesterday's tired old creams. Of course when we reach that life juncture we'll have the salaries to front the cost. At least I hope. Then again, if all else fails, a handy app that makes your digital self prettier doesn't seem like a thing that will ever fall out of fashion either. And for that matter, neither will makeup.