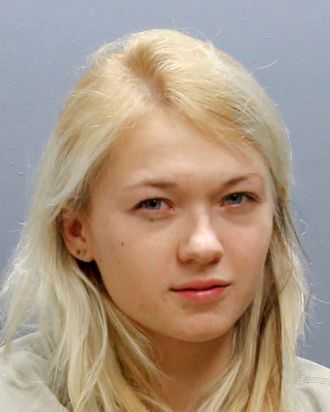 Marina Lonina will serve nine months in prison for livestreaming her friend's rape.
Photo: Franklin County Sheriff's Office/AP
A 19-year-old woman who livestreamed her friend's rape on Periscope was sentenced to nine months in prison, the Columbus Dispatch reports. Marina Lonina was found guilty of one count of obstruction of justice as part of a plea bargain; she initially faced charges for kidnapping, rape, sexual battery, and pandering sexual matter involving a minor (her friend was 17 at the time).
Lonina and her friend met 29-year-old Raymond B. Gates while they were shopping. The next day they went to his apartment, where they "drank alcohol until the victim was heavily intoxicated," according to an assistant prosecutor. At that point Gates forced himself on the victim while Lonina broadcast the rape on Periscope. The victim, who's now 18, read a statement in court saying she's suffered from panic attacks since the rape. "I was too gullible to see how manipulative she truly is," she said of Lonina.
Lonina's defense attorney told the New York Times that she thought livestreaming the attack would somehow stop it. "She got caught up in the likes," he said.
Gates was previously sentenced to nine years in prison. By agreeing to the plea bargain, Lonina admitted she failed to report the rape or to turn over evidence after it happened.