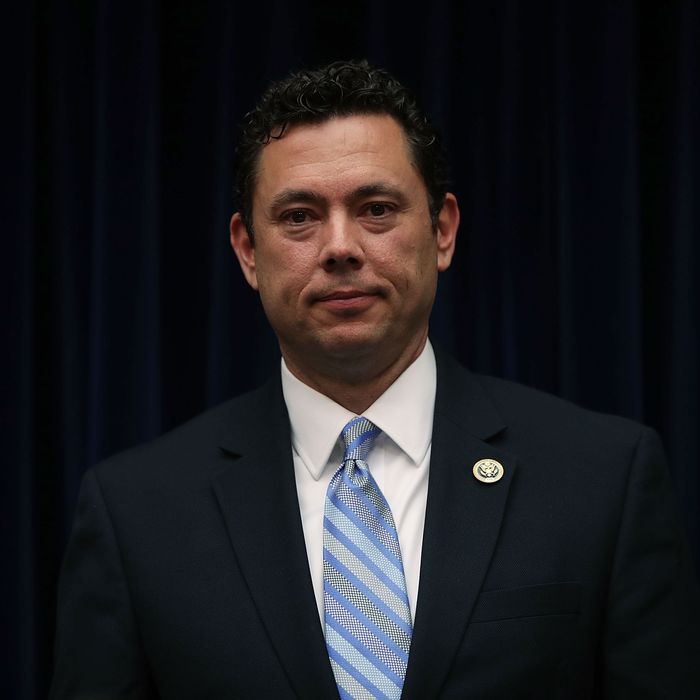 More than 1,000 people showed up at Jason Chaffetz's town hall Thursday night.
Photo: Alex Wong/Getty Images
Like many politicians, House Oversight Committee Chairman Jason Chaffetz's office has been flooded with calls in recent weeks, and on Thursday night the furor overflowed into a massive turnout at Chaffetz's town hall near Salt Lake City, Utah. More than 1,000 constituents showed up to question the congressman about things like his resistance to investigating President Trump. Chaffetz had a difficult time answering questions over the crowd's chants of "do your job," and in the midst of the protest, a woman stood up to ask Chaffetz why he wanted to defund the organization that had provided vital cancer screenings while she was uninsured: Planned Parenthood.
"When I was in my 20s, I received an abnormal return for a routine test," the woman told Chaffetz. "And because of this, and because of my family's history with cancer, I was advised it was imperative for me to continue to receive those yearly screenings." When she unexpectedly became a single mother of three small children uninsured and struggling to put herself through college, she turned to Planned Parenthood to provide those screenings.
"These helped ensure that … my children were able to grow up with a mother," she said. "So, sir, can you please tell me, explain to me, why you are trying to take that vital health provider away from women like me?"
She was especially concerned, she said, in light of new reports that indicate community health centers won't be equipped to pick up the slack if and when Planned Parenthood loses its government funding. It's unclear whether Chaffetz actually answered the woman's question in the video, but if he's anything like Paul Ryan, he nodded in concern while reassuring her that he cares, he totally cares, but he's going to put the Planned Parenthood's funding to a vote anyway.