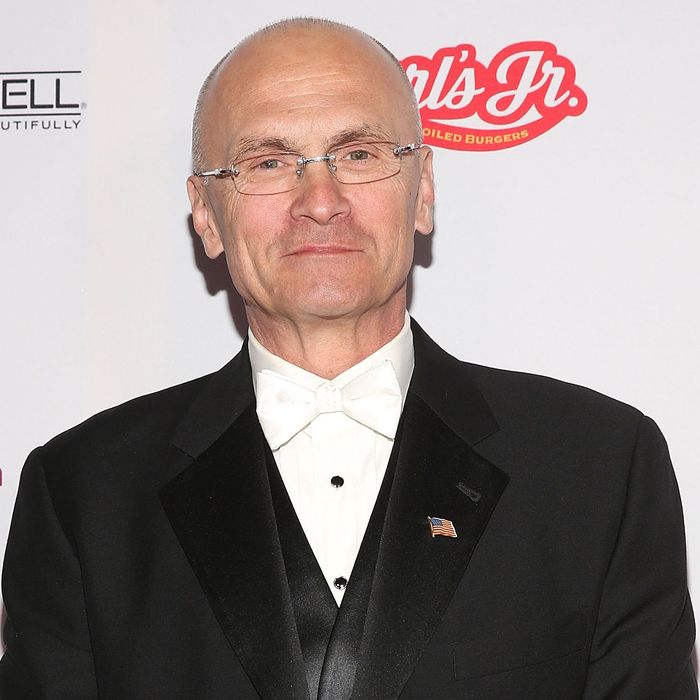 Andy Puzder.
Photo: Jesse Grant/Getty Images for Dream Foundatio
On Tuesday, one of Trump's more controversial cabinet picks, Betsy DeVos, was confirmed as secretary of Education. But there's still a long list of gnarly names to go, not the least of which is Andy Puzder, the CEO of the fast-food company that owns Hardee's and Carl's Jr. In the wake of Puzder's nomination, there's been renewed interest in the way his restaurants handle issues like sexual harassment and sick leave. And on Tuesday, a woman who worked at Hardee's for 21 years wrote an op-ed for the Washington Post urging the Senate not to confirm him as Labor secretary.
JoAnn Wise wrote that she was hired as a cashier at Hardee's in 1984. Back then, she made $4.25 an hour. When she left in 2005, she made $8 an hour — a $3.75 raise over the course of her career. Despite the fact that she and her husband both worked full time, Wise said she relied on food stamps and Medicaid to raise her family. "In 2005, I was diagnosed with chronic obstructive pulmonary disease and had to stop working," she wrote. "After more than two decades at Hardee's, I left without any savings, a 401(k), pension, or health benefits. That's Puzder's America." She went on:
We are their corporate strategy: Pay us as little as legally allowed, steal from our meager paychecks as needed and force us onto public assistance to get by. Sadly, that's the America Trump and Puzder believe in: an America where workers give everything to an employer, and in return, receive nothing. Their America means that an older woman in retirement fighting a chronic illness has to rely on Supplemental Security Income to survive.
Wise added that her son, who works at McDonald's, is part of the Fight for $15 movement, which aims to raise the federal minimum wage to $15 an hour and strengthen protections for working Americans. "Puzder could do serious damage to this movement for basic justice," she wrote.
Puzder's nomination has been met with stiff resistance from fast-food workers, who protested in cities across the country last month, and who are reportedly clamoring to testify at his confirmation hearing. The hearing itself has been delayed twice, and a final date for it still hasn't been set. In fact, a source close to the Trump transition team said Puzder "may be bailing" on the role because "he is not into the pounding he is taking, and the paperwork." (Puzder shot back with a straightforward, if lackluster, tweet.)
Senate leaders have also spoken out to oppose his nomination. "Mr. Puzder has spent his career rigging the system against American workers by opposing the overtime rule, opposing the minimum wage, and underpaying his own workers," Senate Minority Leader Chuck Schumer said in a statement. "His nomination as Labor secretary is proof positive that the incoming administration won't keep its promises to working people."