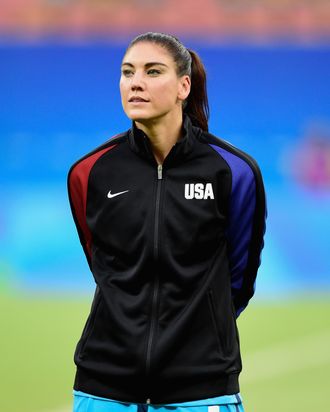 Hope Solo.
Photo: Bruno Zanardo/Getty Images
Now that she has two Olympic gold medals and a World Cup championship under her kit, divisive goalkeeper Hope Solo is making her move into TV. Solo, who competed on the 2011 season of Dancing With the Stars and who was removed from the U.S. women's soccer team roster last year for calling Sweden's national team "cowards," inked a deal with INvelop Entertainment this week. Via Deadline:
World Cup-winning soccer star Hope Solo has signed a deal with INvelop Entertainment to develop and produce unscripted TV content. The first project under the pact is a new season of the sports medical series The Cutting Edge, with Solo attached to host. The series follows athletes and the risks of sports injuries, and treatment and rehabilitation methods using the most current research. Solo was featured in Season 1 which aired on Fox Sports 1.
Solo appeared on 60 Minutes Sports on Tuesday, saying that she's "learned a lot of lessons down the road," referring to her numerous missteps. The goalkeeper also played a key role in the USWNT's fight for equal pay, which she claims is one of the reason's the federation removed her from the team. "I think the federation thought that, if they removed me from the team, then they could remove me from this fight for equal pay," she said on the show. "And they got that wrong because I am more impassioned about this fight now than I ever have been before."