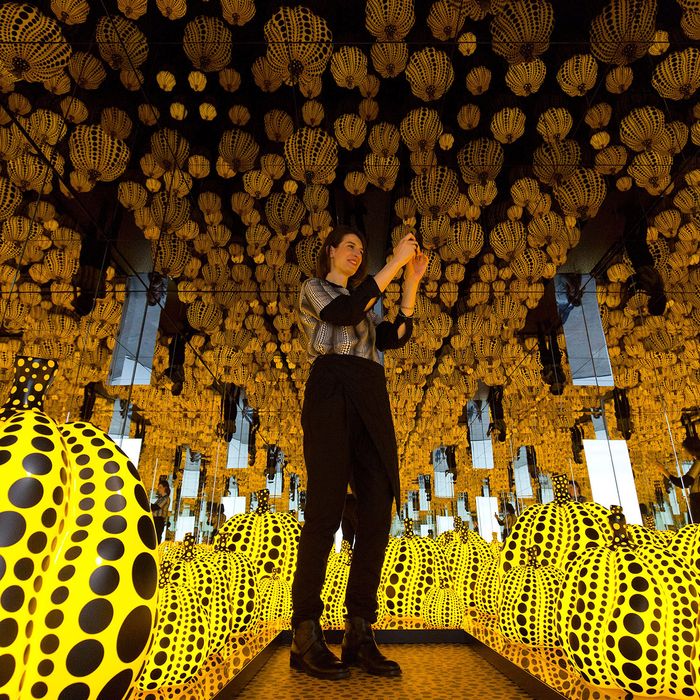 A gallery assistant poses with the art installation in London.
Photo: Getty Images
Yayoi Kusama's "Infinity Mirrored Room — All the Eternal Love I Have for the Pumpkins" is one of the most Instagrammable art installations of the year: It's a mirrored room filled almost entirely with glowing spotted pumpkins. And that, ultimately, may be the reason why one of the pumpkins broke in the first week of the Infinity Mirrors exhibition at the Hirshhorn Museum in Washington, D.C.
According to Hyperallergic, someone tripped and fell into a pumpkin while trying to take a selfie in the small mirrored room, shattering the sculpture and leading to the room's temporary closure. (Kusama's exhibition consists of other mirrored rooms, which are still open.) Per Artnet, a single similar gourd sculpture sold for nearly $800,000 in 2015,* though a spokesperson for the museum said the comparison is "factually inaccurate" as "the individual pumpkins within the Infinity Room hold no intrinsic value on their own. The costs of replacing one of the pumpkins is negligible."
Museum spokesperson Allison Peck confirmed the incident to the Washington Post, but added that there's no way to actually know how the accident happened as no security guards were present in the room at the time — the door is closed and it only holds up to three people, for 30 seconds at a time.
Regardless, this wouldn't be the first — and it won't be the last — time something goes horribly wrong because of a selfie.
*This piece has been updated with an explanation of the sculpture's value, via a museum spokesperson.