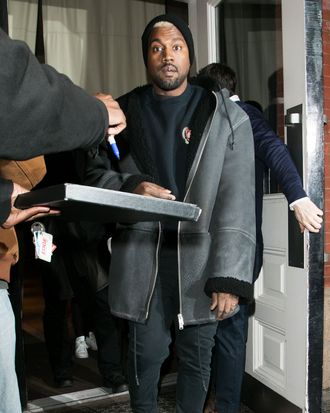 Kanye West.
Photo: Marc Piasecki/GC Images/Getty Images
Today marked something of a détente in the ongoing battle of Kanye West versus the fashion industry. After West outraged editors with last season's hyperthermic, frenzied Yeezy Season 4 show, he ruffled some feathers this season trying to crash his way onto the calendar. To his credit, West showed some uncharacteristic humility by calling CFDA chief Steven Kolb personally and rescheduling, in deference to his fellow New York Fashion Week designers. And while some editors declared their intention to skip this season, we saw plenty of powers that be in attendance, including Anna Wintour, Emmanuelle Alt, Edward Enninful, and Carine Roitfeld. Even with their presence — and Kim and Kylie front row — the show felt more sedate and less circuslike than previous outings. (It helped that it was held at Pier 59, a venue that didn't require an hours-long bus ride.) There was no WWE-style introduction of a band of fur-clad Kardashians, no video-game demo, just a collection on display. It felt like West was recognizing his past critics and settling down to focus on the clothes. It was a canny plumbing of fashion's mood right now, one that has cooled slightly on spectacle and celebrity worship. You see it in designers dropping out to show in outposts outside Fashion Week, or finding ways to show off the runway, and in the diminished wattage of the front rows.

The first half of the collection was shown in the form of a live video of models turning in slow, lazy-Susan fashion to the sound of The-Dream's cover of J. Holiday's "Bed." The film was projected onto a NASA-launch-size box in the center of the room, the oversize scale of which encouraged attendees to take in the details of the collection — the antithesis of his splashy, made-for-E! shows of the past few seasons. (His longtime and controversial collaborator, Vanessa Beecroft, was not involved this season, according to a West spokesperson.) Then the models emerged onto the runway, giving us another taste of the looks in motion.

As he'd hinted, the pieces were inspired by his California haven, Calabasas. No clear boot-pants or nude leotards or ripped-up sweaters were in evidence — instead, he showed casual Americana staples like camo, faded jeans, and sherbert-hued, washed-out-looking sweatshirts, some emblazoned with "Calabasas" or "Lost Hills" (which may have been an evocation of Hidden Hills, the luxe gated hideout which ensconces Kimye, Bieber, and Drake.) Some models wore bulky sneakers of Larry David proportions. These were clothes for the suburbs, for lying low and decompressing, not impressing — a departure, given West's habitual fierce need to impress. No more parties in L.A., indeed.
Instead of his Gothic Life of Pablo font, West opted for cleanly spaced letters that almost looked like '70s iron-on slogans. One stumbling point was the silhouette of over-the-knee boots worn over loose pants — which is a tricky one for most people, though it looked good on the models, of course.

The collection didn't feel startling or new — he's certainly far from the first to reimagine the five-pocket jean or the logo sweatshirt — but it did feel like West was not striving for headline-making showmanship, but rather exploring ideas about Americana, escape, and celebrity. To judge by this collection, he has cloistered himself and come out with something a bit more thoughtful than last season's effort. Let's see if his new perspective lasts.