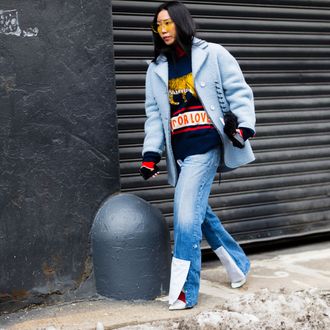 Today's Golden Peacock.
Photo: Nabile Quenum/Nabile Quenum
As much as people like to joke that Gucci is the ultimate street-style bait, it's true. Wearing anything by the brand is going to cause someone to snap your picture. This woman makes her Gucci sweater work by styling it in a way that doesn't seem forced. But she still owns it enough to be our choice for the Golden Peacock Award winner for day five of New York Fashion Week.
Paired with an older Acne coat and paneled jeans, the sweater ends up being more of a layering piece. It's the outfit as a whole that makes a statement, not any single item. Plus, her yellow glasses with the huge wire frames are something few people would even attempt to wear. Are they really that functional? Of course not. Do we care? Not when they look that good.