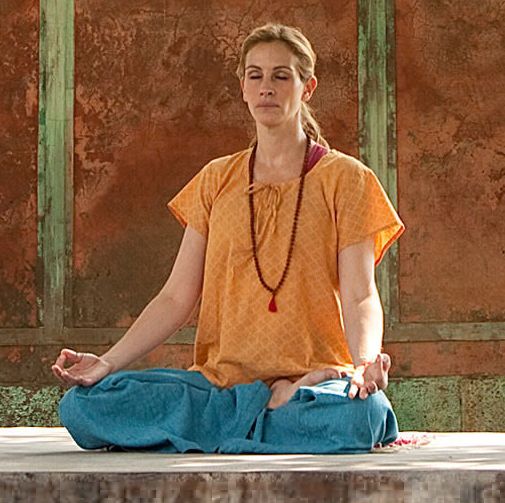 I ate, I didn't pray, and I learned a lot about Burning Man.
I'm lying on my back on the floor of a yurt at a farm in upstate New York, staring up at a round skylight window as a yoga teacher plays the harmonium. Her goal is to lull us into a meditative state to help us move on from our exes, as we inhale and exhale together. "Breathe in — let …" the teacher says as some of the women audibly start to cry. "Breathe out — go …" But while it may be working for the rest of the group, it certainly isn't for me — instead of breathing, clearing my head, finding a sense of peace or whatever it is people do when meditating, I'm counting the wood beams that seem to shoot out of the skylight like the sun, and wondering if the wood-burning stove that's heating the yurt is going to give us all carbon-monoxide poisoning. Is that how I die? By a stove in a yurt?
I found myself in that fateful yurt as one of seven women attending the very first Renew Breakup Bootcamp. The brainchild of Amy Chan, a Canadian relationship columnist who the Observer once said was like "a scientific Carrie Bradshaw" (as in, she writes about the psychology of relationships), Renew is a three-day retreat of meditation, yoga, group therapy, and organic eating on a luxury farm. "I am not a healer, but we are all here as facilitators of healing," Chan told us during the retreat. The "facilitators" include Amy, a life coach, a yoga instructor, a gorgeous 22-year-old private chef we all flirted with shamelessly, a farmhand, and a positive psychology consultant — the practitioners at the retreat nearly outnumber the participants.
Chan came up with the idea for the retreat after enduring a difficult breakup of her own, she told me. She worked with therapists and life coaches, and did research into the science of love, before being able to find forgiveness, take accountability, and as she puts it, restore her power. Now, she hopes to help others do the same at Renew. She'd frequently attended yoga and party retreats across the world in the past, but she had never come across one specifically geared toward getting over a broken heart. Her next retreat is set to span a week in late May or early June, and eventually, she plans on establishing a permanent center.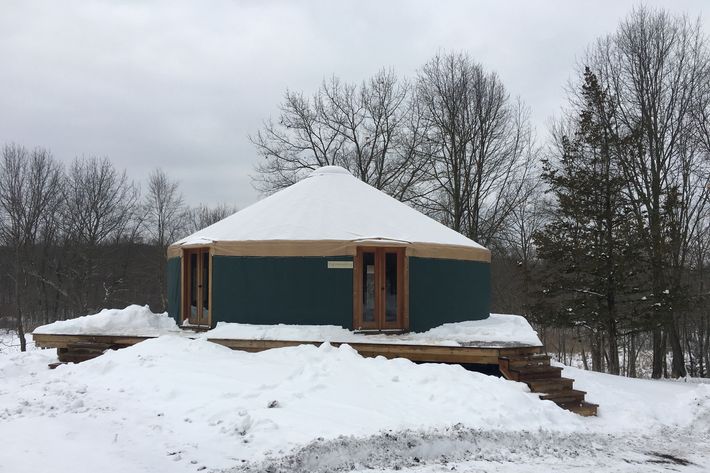 Before attending Renew, I wasn't particularly heartbroken, though I was adjusting to being single for the first time in a while. I had just gotten out of two back-to-back relationships — one with an on/off boyfriend of about a year and a half, and the other was a failed attempt at long-distance with a Brit I had dated in New York before he moved away. For the past few years, I'd had a tendency to jump from guy to guy. My therapist pointed out that perhaps this wasn't the healthiest of habits, and suggested that I try to sit still and try actually being alone. The problem with that, of course, is that I am an incredibly impatient and restless person, so trying to relax and enjoy solitude goes against my nature. I decided to give Renew a try, to see if getting out of the city and forcing myself to meditate might help me stop feeling so antsy.
Renew, it should be noted, is not for those of us on a budget. Instead, with its first three-day retreat costing $1,500 for a private room and $1,000 for a shared room, it's a wellness boot camp for those amongst the Goop or Amanda Chantal Bacon set — who can actually afford to shell out a pretty penny to help mend their broken heart. The first event took place at the picturesque Prana Farms about two and a half hours north of the city. The property has two houses (that are decorated as if a country home from a Nancy Meyers film mated with an issue of Kinfolk), a barn, sprawling fields, a sauna, pool, the aforementioned yurt, some goats, and four Alpacas who ran out to greet us each day as we walked between the buildings.
Although everyone had a different reason for being here (some were recently heartbroken, others were stuck on a past relationship) there was one thing that unified mostly everyone at the camp: a mutual love of Burning Man. The women talked about it constantly. They had amazing kombucha at Burning Man; they came to new realizations about themselves there; one of them even met her ex at the festival. To them, Burning Man was a fact of life. But to me, the Black Rock Desert festival sounded like my worst nightmare: like Mad Max: Fury Road, only with thousands of people having simultaneous spiritual epiphanies alongside Katy Perry and Adrian Grenier.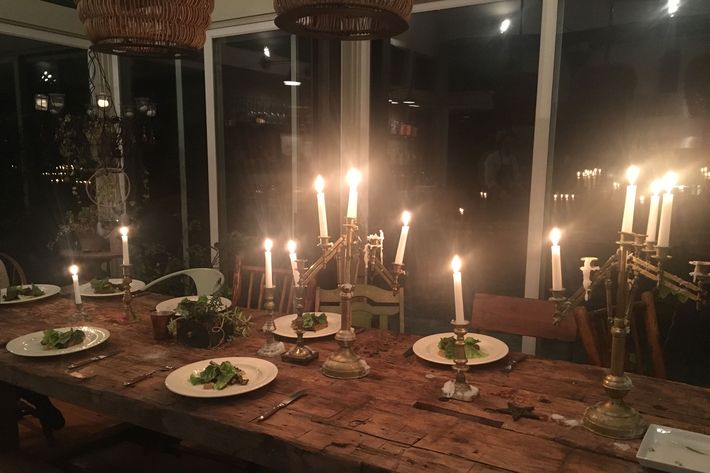 On its website, Renew promises to help "rewire the heart" by "bridging the gap between science and spirituality," and it certainly tried to do just that. We had long group discussions about attachment theories and relationship triggers; we wrote out lists of all the people who have hurt us, and reframed the negatives into positives; we had extensive meditation and yoga sessions. Some of the women chopped wood (to get out their anger) or had acupuncture (to calm down afterward), though I opted out of those activities due to a fear of both axes and needles. And at the end of each night, we retreated to our bedrooms, where we were supposed to stay away from our phones and get a good night's sleep. I, however, found out the WiFi password and stayed up late frantically texting my friends about whether Burning Man might not be so bad after all, if a shift in vibrations really is to blame for Donald Trump, and whether I should be eating more leeks. I felt like I was in a parallel universe and my phone was my only link to reality.
I'm not a spiritual person, as you've probably guessed — the only things I believe in are logic and the inevitability that we're all going to die — so the retreat's New Age-y vibe didn't really work for me. On top of that, I realized that I wasn't really in the sort of headspace that would benefit from such a retreat. If anything, I'm feeling bored and anxious by being single. Instead of retreating, I should really just find myself a new hobby. But as I sat in a complicated meditative posture in the yurt, with my head resting on wooden blocks perched on my thighs and a blanket covering my shoulders, I found myself thinking longingly about the barre class I attend in the city. That's my version of spirituality: A place where I can clear my head for an hour as I tuck and lunge to remixes of Rihanna songs. For me, that may just be more effective than group chanting.