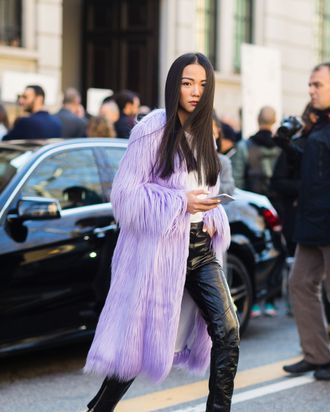 Yoyo Cao.
Photo: Nabile Quenum/Nabile Quenum
Yoyo Cao, the Singapore-based designer and social-media personality, is one of our perennial street-style favorites. She changes outfits multiple times a day during Fashion Week, showing off several wild looks in a matter of hours. This incredible purple fur and leather pants combo was one of the standouts of the weekend at Milan Fashion Week and it's our choice for today's Golden Peacock Award.
A lilac fur is rare to see, and the neutral hues in the rest of Cao's outfit make it the focal point of the look. Plus, the pants blend seamlessly into her leather boots, creating one clean line. Her straight, blunt hair adds to the overall sleekness.