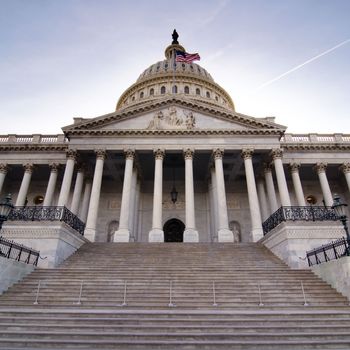 The U.S. Capitol.
Photo: rrodrickbeiler/iStockphoto/Getty Images
People from across the country are coming together on Tuesday to share their own stories of abortion, as part of the 1 in 3 Campaign's Speakout and Lobby Day event. More than 60 people are telling their abortion tales through a livestream, while others are sharing their stories (with megaphones) on the steps of the U.S. Capitol in Washington, D.C., before meeting with members of Congress, including Representatives Barbara Lee and Pat Toomey, and Senators John McCain, Lindsey Graham, and Chuck Schumer.
Tuesday's event will be the 1 in 3 Campaign's third Speakout, and will feature storytellers from across the country and different backgrounds, genders, races, and ages. This year, given the looming threats to abortion rights in the country, the events will not only include stories of how abortion affects individual people's lives, but also harrowing tales of abortions from the days before Roe v. Wade. Many of the storytellers are actually sharing their stories for the first time, to show that this topic that's become so political is still so personal.
"Telling our stories is an act of resistance — resistance against restrictions on access, resistance against threats from the Trump Administration, and resistance against the shame that's kept us quiet for too long," Debra Hauser, president of Advocates for Youth (the parent organization of 1 in 3), said in a statement.
The online component of the event will kick off at noon, when stories from 60 people recorded yesterday in D.C. will be livestreamed here throughout the day. At the same time, many of those storytellers (and other supporters) are gathering at the U.S. Capitol at 11:15 a.m. to tell their stories. Next, they plan to head to the 2075 Rayburn House Office Building at noon before meeting with congresspeople from 1:30 to 5 p.m.