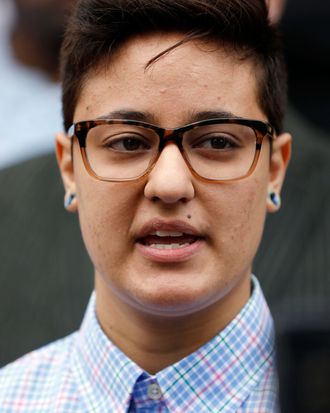 Daniela Vargas was released by ICE Friday.
Photo: Rogelio V. Solis/AP
Daniela Vargas, a 22-year-old undocumented immigrant from Argentina, was arrested and detained by Immigration and Customs Enforcement officials last week just after speaking to the media about Trump's immigration policy. At a news conference in Jackson, Mississippi, Vargas said a path to citizenship was "necessary for DACA recipients, but also for the other 11 million undocumented people with dreams." She went on, "Today, my father and brother await deportation while I continue to fight this battle."
Vargas's lawyer told the Huffington Post that, in Vargas's case, ICE would pursue immediate deportation without a court hearing or bond, but on Friday ICE officials announced Vargas would be released under an order of supervision.
Vargas arrived in the United States with her family when she was 7, and she was granted permission to live and work in the U.S. thanks to President Obama's Deferred Action for Childhood Arrivals program.
Her father and brother were arrested by ICE officials last month, and Vargas was arrested in early March because her DACA status was out of date — it had reportedly expired in November, and Vargas couldn't afford to pay the $495 renewal fee until February.
Her attorney said her arrest "could be retaliation." "They had been reading about her in the news, they had seen her at this press conference … [maybe] they didn't want to hear it anymore," she said.