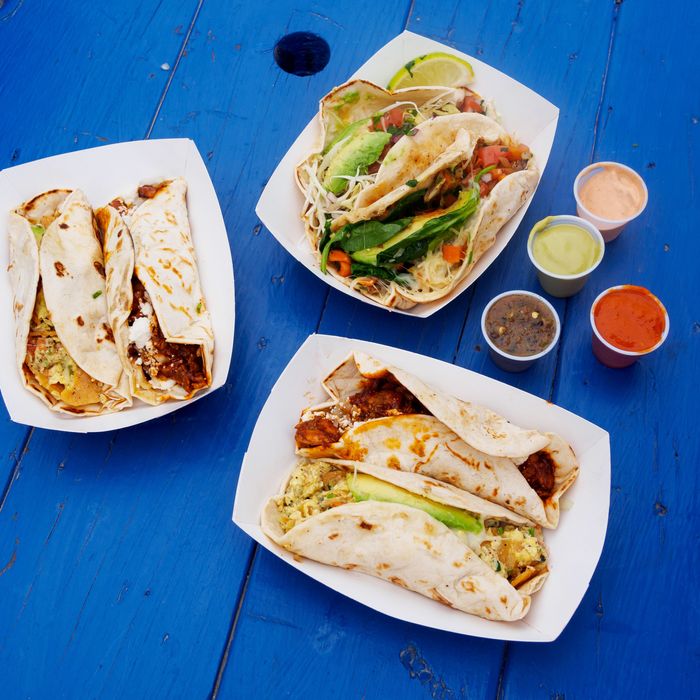 Photo: Brandon Rosenblum/Getty Images
Somehow I keep seeing the same bands two or three times, because they're all playing a million shows and I like what I like. I also eat the same vegan "bac'n cheezburg'r" four times, because fool me once, shame on you, fool me twice, I will come back two more times.
"Everyone is so nice here," singer Tei Shi (a.k.a. Valerie Teicher) said to me after her show earlier in the week, "It encourages you to be nice without it being weird." She and I have just held double doors open for a man wheeling out large metallic concert equipment. We are pleased that perhaps we are nice now, as well.
In that spirit, a list of things I found especially nice or otherwise highly remarkable, before I leave:
Most Expressive Dancer: A small child who danced like a tiny horse until he became tired (every 20 seconds) and collapsed on his diaper-butt.
Best Song Playing From a Pedicab: "You Make My Dreams Come True," Hall and Oates.
Second-Best Song Playing From a Pedicab: "Backseat Freestyle," Kendrick Lamar.
Greatest Misunderstanding of a Bag: a Supreme fanny pack worn in the manner of a sash.
Best Face: It belonged to a fascinating person who was wearing white cowboy boots and a suit jacket with a man's face embroidered on it. The face is the face of the man wearing the jacket. Amazing consistency.
Most Prevalent Free Thing: It's called Brain Juice, and it was handed to me by a beautifully hungover youth dryly intoning, "Brain Juice, it's exactly what it says it is." I see people holding tiny bottles of it all week, eyeing it as if it were a tiny devil's bargain, before drinking it.
Freakiest Animal Noise: Bats! Why are they squawking, they are mammals.
Best Friends: The two friends in matching blue swimsuits, one with white Docs and the other with snakeskin thigh-high boots, who I suspect lightly choreographed their dancing beforehand.
Best Thing About Taco Trucks: An avocado sauce that's in bottles right by the other hot sauces, like it's not even special or luxurious.
Most Haunting Sentence: Was spoken by scientist Jennifer Doudna while discussing a DNA experiment that involved fluorescent tadpoles: "This is sort of a cute example that has really profound implications because this means, as human beings, we now have the ability to control our own evolution."
Neatest Handwriting: The New Pornographers' set list, such a crisp Sharpie. That's me bragging about how close I was to their set list, by the way, just want you to pick up on that.
Most Relatable Off-Duty Bassist: The one overheard saying "I just want to make money and hang out."
Dreamiest Setting: Listening to Vagabond play at Sidewinder, which is a concert venue that feels like a tree-house above a little river.
Goodbye Austin! I see a man skateboarding in the airport!