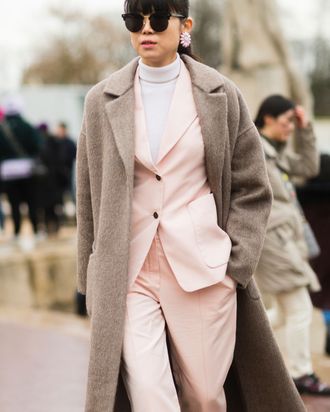 Leaf Greener.
Photo: Nabile Quenum/Nabile Quenum
Leaf Greener is known for some rather extravagant looks, so it was surprising to see her turn up in this suit at the Paris Fashion Week shows yesterday. However, it was certainly a welcome surprise, as the stylist looks incredibly chic in the pale-pink pantsuit with a layered turtleneck and shearling coat.
Greener's overall look is uncomplicated and seems more like something you would see on the most stylish woman in your office, not a Fashion Week street-style favorite. Plus, the matching pink flower earrings are a nice accent, and they help to keep the outfit feeling fresh and modern rather than matronly.