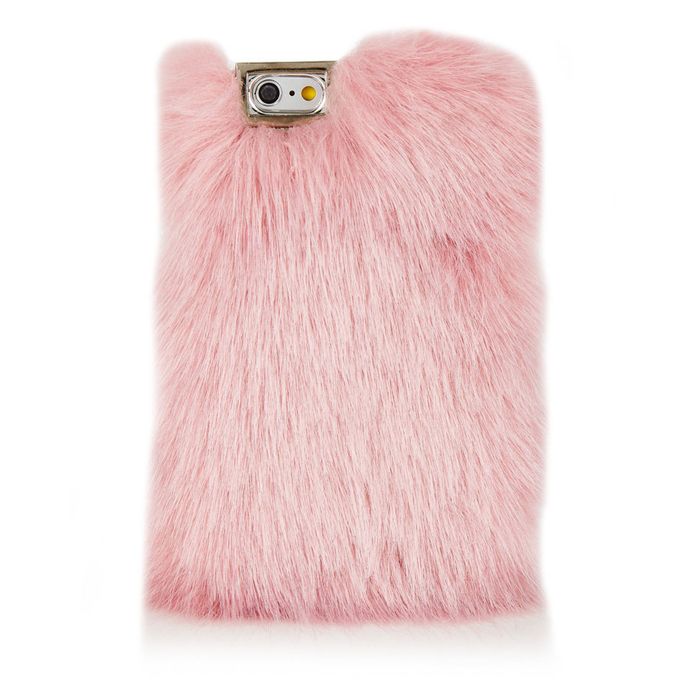 Skinny Dip's over-the-top faux-fur case.
Photo: Copyright: Samuel Wiles 2015
I've lived in New York City for almost six years, and can count on one hand how many times I've witnessed someone strike up a conversation with a stranger. Once you've lived here for the long term you easily adapt to the city's dearth of affability. There's a wailing toddler on the train? A real New Yorker does nothing. Oh, did you accidentally drop something on the street? I'll alert you to that right away, what with all the spare time I've got scrambling to catch the A train.
Clearly, I felt like I was in the Twilight Zone when people began stopping me on the street to politely inquire about my phone case.

Ever since I slipped this fuzzy mass out of its package and snapped it onto my phone, not a day goes by that I don't get an inquisitive glance followed by, "I love your phone case, where did you get it?" — at a drugstore walking the aisles, at the office, or on my commute home. Some people wonder if it's real mink (fur phone cases are a thing, and yes they're egregiously expensive), which makes me even more smug about my $25 purchase (which, now, is actually $12; the purple version of the case is on sale).
The baby-pink ball of fluff adorning my phone is the product of London-based shop Skinny Dip. The brand isn't new by any means in the U.K., created in 2010 — if you've ever shopped online at Macy's or Urban Outfitters, you've likely already seen their popular kitty earphones or kitschy stationary embellished with phrases like "yass queen" — but the brand is starting to gain popularity here in the States. Everything on its site is guaranteed to include glitter, iridescence, or a meme-y tagline. And that's the beauty of it.

Yes, I find this piece of fur-covered plastic aesthetically pleasing, but what good is a phone case if it doesn't safeguard your device from careless falls on the sidewalk? Here's where the excessive furriness comes into play: It envelopes your phone in a cushion of shatter-proof fuzz. I've dropped my phone more times than I care to admit, yet my dependable furry case has left it unscathed.
If the color pink feels like too much, a vibrant shade of lilac is also available. Oh, and did I mention it's also currently on sale?

Photo: Copyright: Samuel Wiles 2015