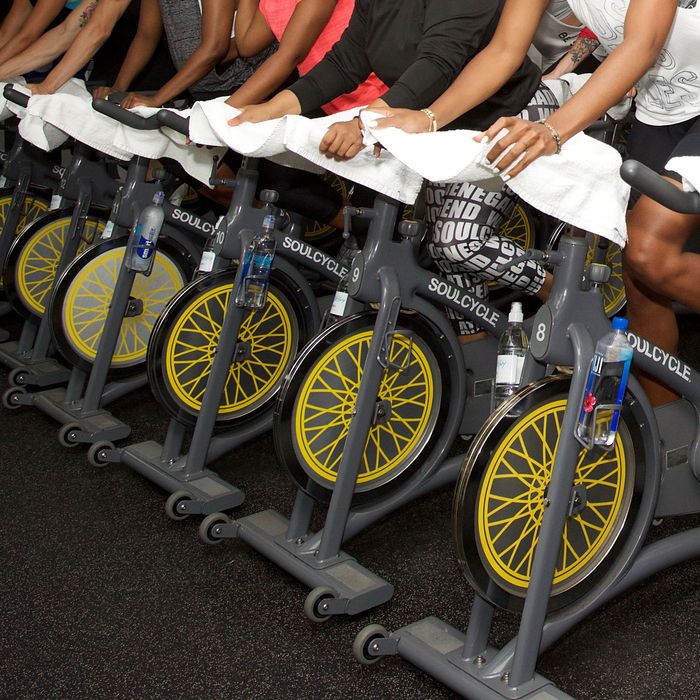 SoulCycle.
Photo: Earl Gibson/Getty Images for BET
SoulCycle has been hit with a lawsuit by a New York woman who claims she was impaled when dismounting one of its stationary bikes during a class in Beverly Hills, the New York Post reports. The woman allegedly dangled by her right leg for several minutes as she screamed for help, but her cries were reportedly "drowned out" by the loud workout music.
The lawsuit was filed in Manhattan Supreme Court by Donna Wood, 42, who was on vacation with her husband in January 2016 when she opted to attend the 8:30 a.m. class at the Wilshire Boulevard SoulCycle, according to the Post. When Wood attempted to get off the bike after her workout, her right leg caught on a sharp support beam, according to the suit.
Per the Post:
"She was left dangling by her right leg, which she could not dislodge," the suit says. "Though she screamed for assistance, because the class was in cool-down mode and music was still playing loudly and the room still dark, she was not heard or seen for several minutes," according to court papers.
A classmate apparently "rescued" Wood, but no one called an ambulance, so she took an Uber to the emergency room of the nearby Cedars-Sinai Medical Center. Wood allegedly required 50 surgical staples to close the wound, and her trip back to Westchester County was delayed, as she had to recuperate at her room in the Hotel Palomar in Westwood, the Post noted.
In her suit, Wood claims that the flight back to New York was excruciating and that she developed an infection from the wound. She finally recovered by April, though "the laceration left a deep and permanent scar." Wood is reportedly seeking unspecified damages, and alleges she should have been warned about the bicycle's dangers from her instructors.