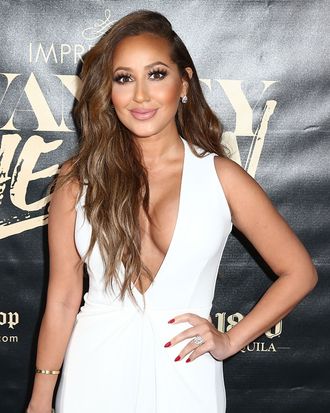 Adrienne Bailon.
Photo: Joe Scarnici/Getty Images for Impressions Vanity Co
Adrienne Bailon is more than happy to talk about her period. The former 3LW singer (remember "No More"?) and Cheetah Girl, and current co-host of the daytime talk show The Real has teamed up with Carefree to open up the conversation about how we deal with our periods. "It's something that's totally normal," Bailon told the Cut. We recently caught up with Bailon to chat about how she incorporates feminine hygiene into her own routine, and also to hear about the ways wellness has changed since her days in a girl group, why she's always making lists, and her obsession with coconut oil.

How I start my mornings: I always start my mornings listening to music. That does something good for my spirit. I love feel-good music. I like a little Marc Anthony, a little salsa in the morning — that will wake you up. I also love Fleetwood Mac. Then I hop in the shower, brush my teeth, and wash my face. Then after that, you've got to liner up. That feminine-hygiene moment is super important. I love being a woman, and I think one of the greatest things about being a woman is getting to care for yourself — I'm the girl who goes to sleep at night with my panty and matching bra already picked out on my bed. Most of the time after taking my shower, I drink hot water with lots of lemon. It warms me up from the inside. When I get to my job, they have juices waiting for me there, so I always have a green juice in the morning. I also try to drink tons of water.
How I sweat: I do 45 minutes of cardio in the morning on the elliptical machine. I also work out with a trainer named Massy Arias, who is amazing. We do circuit training — which I love, because it's something different every day — and boxing. I do weight lifting three times a week, but I actually don't give myself a rest day on cardio because I want that to be part of my lifestyle. I started doing that when I lost 21 pounds for my wedding. That was the goal, and I really wanted to have a routine. So I created that system for myself, and honestly, it did really take like 21 days to create the habit — to get up in the morning and feel like I have not fully woken up until I've broken a sweat on the elliptical machine and done 45 minutes of cardio every morning.
My skin-care routine: Moisturize, moisturize, moisturize. I used to be known for falling asleep with my makeup on all the time, and I'm really grateful because my husband now is like, "nope." He will literally tell me, "you've got to get up, wash your face, and take the makeup off." I love that. See, that's one of the great things about being married — I have someone there as a daily reminder to remind me not to fall asleep with my makeup on. Giving your face a break from makeup is important. On the days I'm not working, I don't wear makeup. But I'm also the girl who leaves her house covered in coconut oil head to toe. And honestly, I love the smell of it. It feels good, and I feel like I'm doing something good for my skin. I actually love SheaMoisture's coconut oil. They have a 100 percent virgin coconut oil that I use.
How wellness has changed for me since 3LW and The Cheetah Girls: If I'm honest, I didn't care about it when I was younger — because when you're young, you think you're invincible. You're like, nothing's ever going to happen to me. I love that now I actually know about the things that are in our food, and I'm more conscious and more aware of things that I put in my body. I'm now aware that I actually need rest, at 33 years old. I know how important it is to be well-rounded, and to be well in all of the areas in your life, because one affects the other. If I haven't gotten great rest, that affects how I'm going to work at my job.
On speaking out about periods: Talking about it normalizes what's going on with us. Oh, you go through that? I go through that, too. Oh, you wear a panty liner? I wear a panty liner, too. Guess what, you get your period? I do, too. I think opening the conversation, especially for young women, is so important so that by the time they get older like me, they know it's nothing to be embarrassed about, and that it's something that's totally normal, and something that you can even bond with another woman over. A lot of my female conversations are special because they're based on things that only us women go through. That's also something I love about working at The Real. It's crazy — the four of us are literally on the same cycle, so these are the conversations that we're always having, and I love that it's relatable. We're like, what is your favorite feminine-hygiene product? Oh, girl you should use this. I love that as girlfriends, you can recommend this sort of thing and talk freely about it.
My best wellness hack: Honestly, I swear the biggest improvement in my life was waking up an hour earlier. If you wake up an hour earlier, you can get more things done. Also, planning is such a great life hack. I am the queen of lists. Sometimes, people look over at me and are like, what are you doing, Adrienne? I am writing lists on my phone about the things I have to do. I'm all over the place; I'm talking about one thing and thinking about another, attempting to multitask. So the best thing I've done for myself — the day before, when I'm lying in bed and getting ready to sleep — is map out my day. I write myself a super-detailed list of all the things I want to accomplish in the day, and I get up earlier to make sure I get those things done. It helps me put my mind at rest, and after I put check marks next to everything at the end of the day, I can get into bed and think, Ah, I got it all done.
How I deal with PMS: I actually believe in rest — rest is a great cure. Obviously, we have to work, and we can't call out because of PMS, but the main thing you want to do is lie down. You feel exhausted and drained, literally. That sounds horrible [laughs]. But I think rest is super important. And also ginger tea is really great for relieving menstrual symptoms.
My best wellness advice: I really do believe that happy people are the most beautiful people. Yes, you can take care of your skin all you want, and, yes, your lotion might be giving you some glow, but you definitely need to glow from the inside out. Just write a list. I know so many people who say, I'm not happy. But why aren't you happy? And what would make you happy? Actually sit down and really think about it — okay, these are the things that would really make me happy — and from there, figure out a plan how to get to that happy place. There's always an answer.
This interview has been edited and condensed.