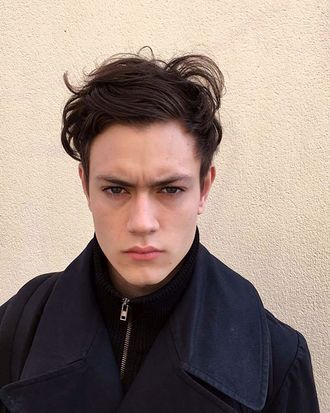 Pierre Kaczmarek.
Photo: Courtesy of Afterhomework Paris
You might think that when Pierre Kaczmarek, a Parisian high-school student, started supplementing his curriculum with a fashion line of his own, his parents would be thrilled with his initiative. Not so. "They didn't want fashion to take the place of school," Kaczmarek recalls. "They wanted school to always [come] before fashion." As a wink to that fact, the then-15-year-old named his fledgling label Afterhomework. Since then, his after-school project has grown from a T-shirt line to a full collection, with its second show at Paris Fashion Week last Saturday.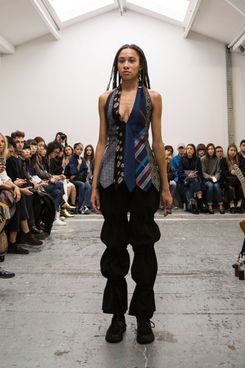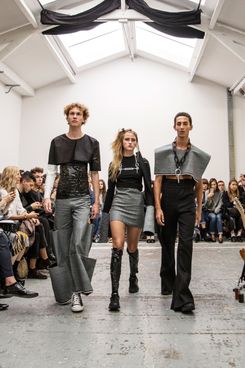 Other than an internship with the Paris-based leather designer Isaac Sellam, Kaczmarek had no formal design training. But he worships at the altar of Martin Margiela — especially after he saw the documentary Anti-Fashion a few years ago. He became entranced, he says, by "the mystery [surrounding] him, his radical ideas about fashion, the innovations he made during the '80s." Kaczmarek is already a lot more public-facing than his hero, however: During our conversation, he talks confidently about "the Afterhomework silhouette" and his plans to monetize the brand by adding more affordable, streetwear-style items.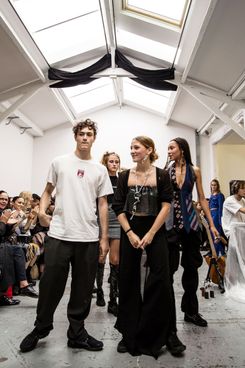 When we speak, Kaczmarek is in a uniquely challenging position — he is preparing for France's notoriously challenging series of high-school diploma exams, the bac, while also juggling the preparation for a PFW show. Luckily, he has some support: He works with his girlfriend, the stylist Elena Mottola, who handles production and styling, or, as he puts it, "She tries to make my drawings a reality." And his friends — all of them as young, cool, and Parisian as he is — have pitched in as models, soundtrack composers, and showroom decorators.

His first show, in October, featured exaggerated silhouettes like gathered floor-sweeping skirts and tapering pants with cutouts, as well as a Margiela-like upcycled vest made from old ties. There were hints of subcultures like Goth and industrial grime mixed into the looks, notably in the tough hardware-style jewelry. It was a respectable first showing, even without grading on the age curve.

You'd think being an experimental designer in Paris would be an enviable position, but thus far, Kaczmarek has received more accolades and attention from Americans and Brits than he has in his home country. "In France, we have a little problem with young designers. We are not helped," like his counterparts are in New York or Milan are, he claims. "It is difficult to be taken seriously in France. The French fashion press is very institutional."

Whatever gripes he may have with the city, Kaczmarek finds himself constantly inspired by his Parisian peers. He plans to continue on with school, partly for the people-watching: "I want to stay in school because it's inspiring me a lot. I'm always inspired by the situation in class when people are sleeping, or that kind of thing," he says.

And in true experimental fashion, he doesn't see his vision as being limited to clothes on a hanger. "In the future, I want Afterhomework to sell other things," he says, listing "artistic inspiration, styling music, art installations, I don't know. The clothes are just the window into it. We can do a lot of things beyond the clothes." He has plenty of time to figure that out.