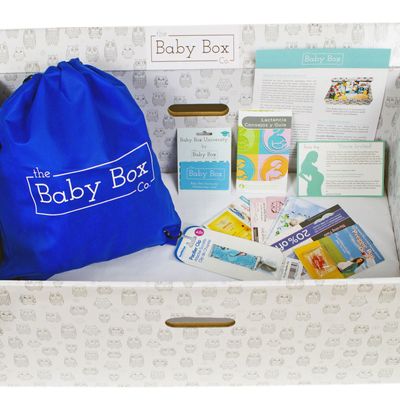 Baby boxes are now available to Alabama parents.
Photo: babyboxco.com
Today Alabama joins two other states in distributing baby boxes to new parents. New or expecting parents simply take an online quiz on SIDS and sleep safety to qualify for their box, which comes with newborn essentials and converts into a no-frills safe-sleep setup.
Alabama's goal is to reduce its infant mortality rate by raising awareness about sleep safety and making the box's firm mattresses and snug sheets — shown to reduce sleep-related deaths — available to all parents at no cost. "If every mother in the state of Alabama used the baby box," Suzanne Booth of the Alabama Rural Development Office told ABC News, "it could cut the infant immortality rate by 22 percent." In Alabama, 8.3 babies die out of every 1,000 live births. The national rate is 5.8.
By distributing baby boxes, Alabama joins Ohio, which began handing out boxes earlier this month, and New Jersey, which kicked off its program in January. The baby-box concept originated in Finland, where its implementation saw a drop in the country's infant mortality rate. Canada started giving away baby boxes to a test group of 1,500 in early 2016 and plans to roll out a national program in April. In June of 2016, a hospital in West London became the first in the U.K. to hand out boxes to new parents.
Don't live in Canada, the U.K., Alabama, Ohio, or New Jersey? You can choose to purchase a baby box: The same for-profit company sells them starting at $70. The most expensive version, at $225, is called "Every Mother Counts."