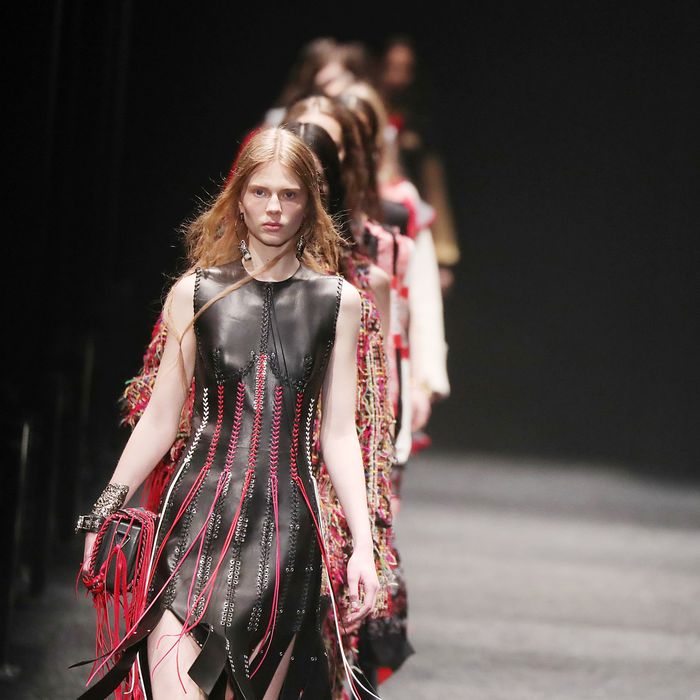 Photo: Antonio de Moraes Barros Filho/WireImage/Getty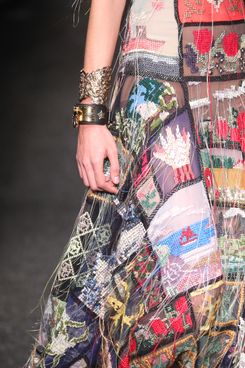 While designers in Paris have been throwing back to the '80s and the grunge side of the '90s, Sarah Burton took things much farther into the past for the Alexander McQueen show today at Paris Fashion Week. According to the show notes, she looked to the ancient traditions of Cornwall, the site of many of her childhood vacations — a theme that she also drew on for pre-fall.
The region is famed for its Cloutie trees, which have strips of cloth tied to them as part of a pagan healing ritual. Burton nodded to that with dresses and jackets featuring winding, baseball-like embroidery that trailed their threads.

Cross-stitching based on medieval needlepoint appeared too, but to avoid an ancient-tapestry effect, Burton mixed it with denim, for a result that was more homespun than museum-piece-worthy. And as has become par for the course for Burton, the show ended with a slew of red-carpet bait — this time around, it came embellished and embroidered with designs based on alchemy illustrations. Talk about a history lesson.