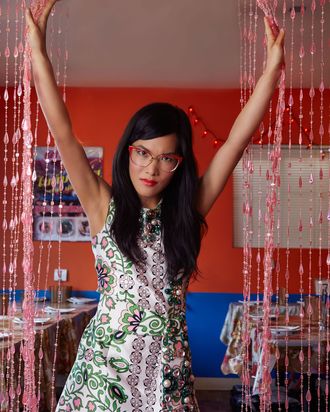 Ali Wong for The Cut/New York Magazine
Photo: Shaniqwa Jarvis
Comedian Ali Wong is thinking about your poor socks. Like many, she's read Marie Kondo's The Life-Changing Magic of Tidying Up — in which the Japanese home-organizing guru makes everyone feel bad about their socks by declaring their daily life "brutal," likening their balled-up, tied-up status in your sock drawer to being in a continual "state of tension."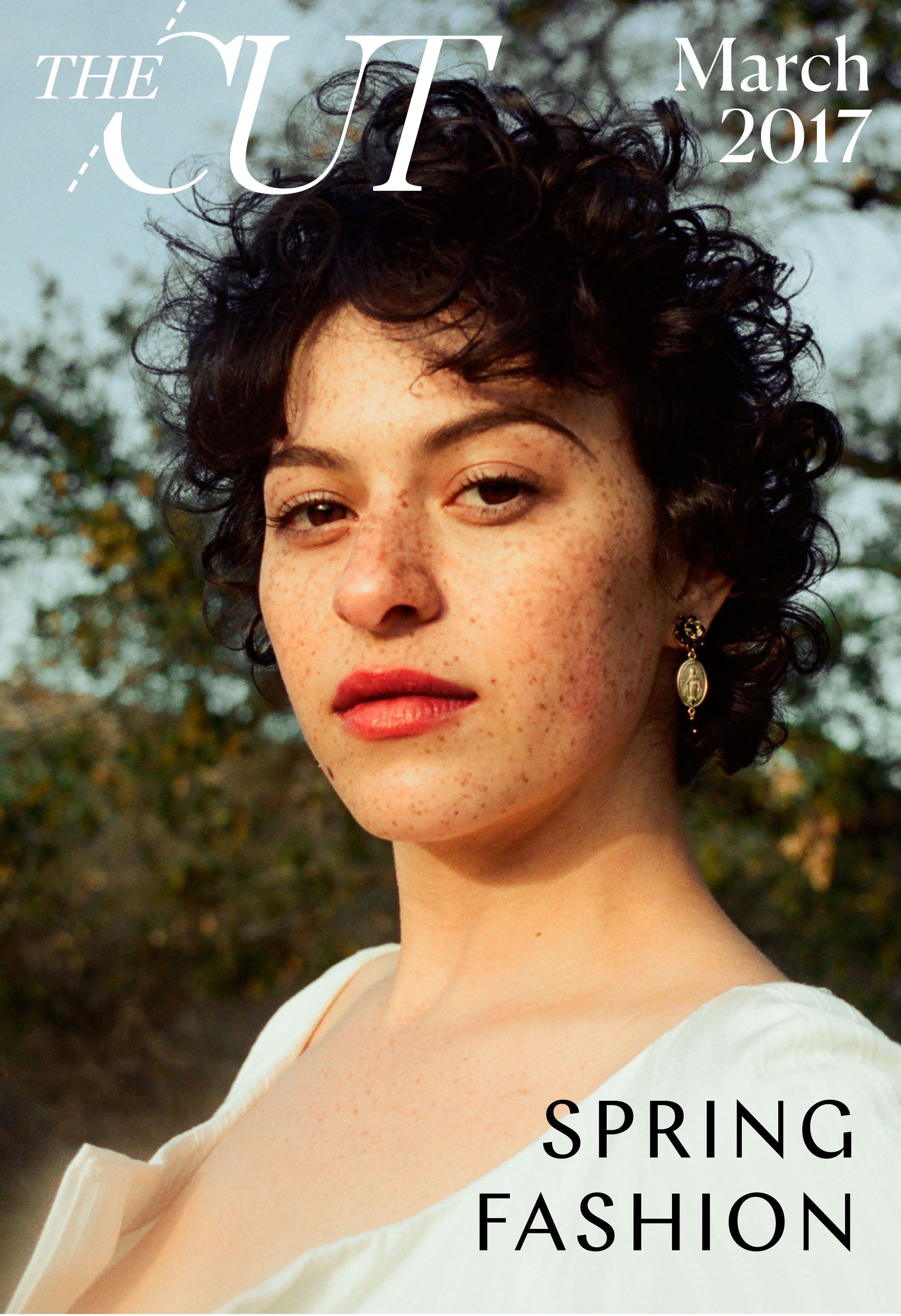 Wong hasn't been able to think about hoarding — or being a sock terrorist — the same way since. "I feel bad for them!" she says when we talk on the phone. "Kondo's way of thinking about socks is that they have feelings and are animated. It's almost like they're in a Miyazaki movie — it's a nice way to think about things. Now I don't do that thing of one being stretched out over the other. I am nice to my socks."
But since her Netflix special Baby Cobra debuted last year and became a hit, a lot of things have sparked joy in the comedian's life. She has a new book deal, has appeared in an Opening Ceremony fashion show, and has been touring the country performing stand-up at sold-out shows, accompanied by her family — including her baby daughter, Mari, who she named after Kondo (yes, really). Since going from unknown to known, Wong's life has changed; during this photo shoot, she admitted to the Cut's senior market editor, Diana Tsui, that now she even has to wear a disguise when she goes to Target. The Cut talked to Wong about her love for glasses over contacts, her thoughts about using comedy to address Asian representation issues and stereotypes, and the one place she gets recognized the most.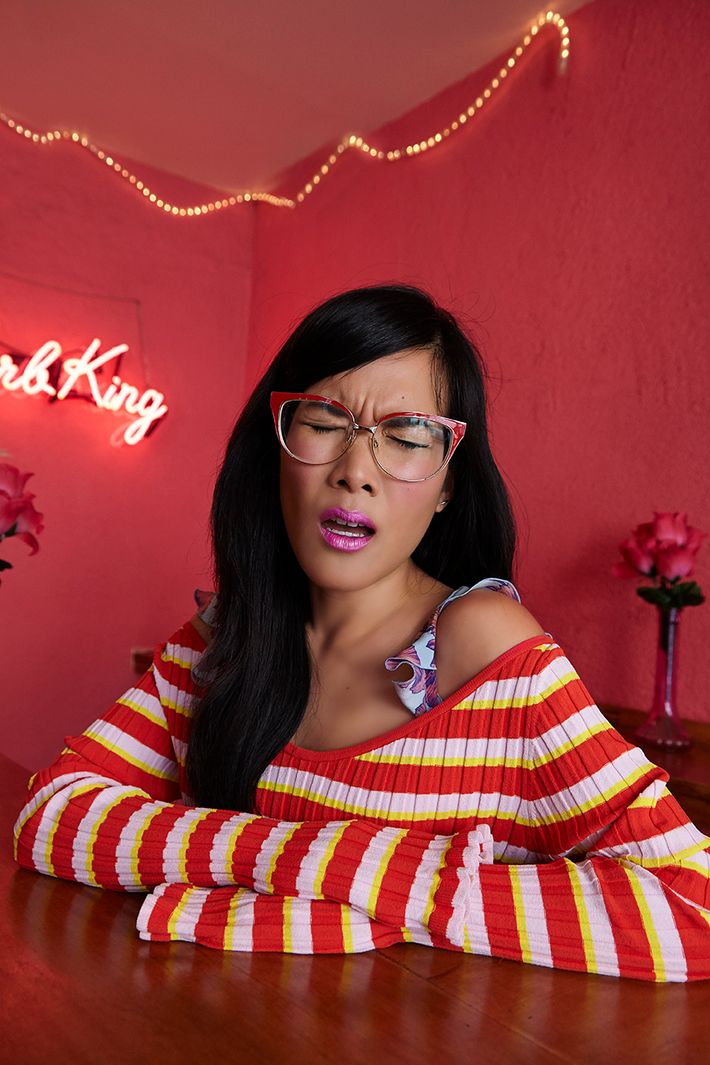 Altuzarra dress, $995 at Net-a-Porter; Ali Wong's own glasses.
You've said, "I don't want to lean in — I want to lie down." Yet, here you are, busier than ever, on tour and with a book coming out.
I am, it's true. I was obviously joking. I have this fantasy of relaxing and doing nothing. But I'm obviously very passionate about stand-up comedy. I mean, I keep doing it. So I must be really into it.
And you're working on a new book?
Yeah, I was reading a bunch of books, like the Ta-Nehisi Coates book and When Breath Becomes Air [by Paul Kalanithi]. And I've always been a fan of Ann Lamott. I've been thinking that I do want to leave my daughter with something. I grew up with older parents and my dad passed away six years ago. When you have a child, you think about your own mortality. I want to write my daughter something about how much I love her and what I would want to say to her before I die.
But I also wanted to write a funny book. There are some stories that aren't in my stand-up set because they are too long and weird to tell on stage. It's hard to spit them out in an hour-long stand-up set, and some of them are very dark. I thought this would be the place for it.
You're on tour. Do you have a rapper-worthy tour rider? A specific wardrobe?
I would love to dress like Beyoncé: some custom-print, neoprene onesie with no pants. But I think it would be distracting to perform with no pants on and my pussy hanging out. I mean, Beyoncé spends her professional life with no pants. I imagine it's very liberating. But I have not done that before. Although I debated it.
And my tour rider is hilarious. You've never seen one like this: It asks for Fiji water and, in the hotel, there must be a crib and two quarts of organic vitamin D milk. No one has this in their rider. People are usually like, "When we get requests for specific liquid beverages, it's for Cristal or Veuve." But I'm like, "Please do not spend any money on candles or baskets with stuff that white people like, like cheese on crackers. Please focus on the Fiji water, the crib, and the milk." I'm traveling with my husband and my kid, so it is very different.
How's it going, traveling with your husband and baby?
It's going great — it's so much better now. It was really lonely when I was by myself and had to figure out what to do with myself during the day. I used to have to do radio all the time because no one knew who I was, and sometimes they would make me fly out the night before and get up at 4 a.m. to do it. Then I would have this anxiety and couldn't sleep during the day. The show would be coming and it was just lonely, sitting in my hotel room and watching the whole season of Breaking Bad. It was a bummer. But with my husband and beautiful baby here, we get to do things like go to the Boston Children's Museum. I get to spend really quality time with her.
But it's very unusual. I did not do this thing many people do, where they tour city-to-city. My husband works. We can't spend more than two nights away from L.A. I didn't name my tour. I didn't market it. I didn't even take new pictures! We're not on a bus. I know there are nice buses. But my kid needs to walk around. The other thing — the last bus I took was the Fung Wah bus from NYC to Boston, when I had a show there that I was getting paid $500 for. I was like, Ooo! I must keep all that 500.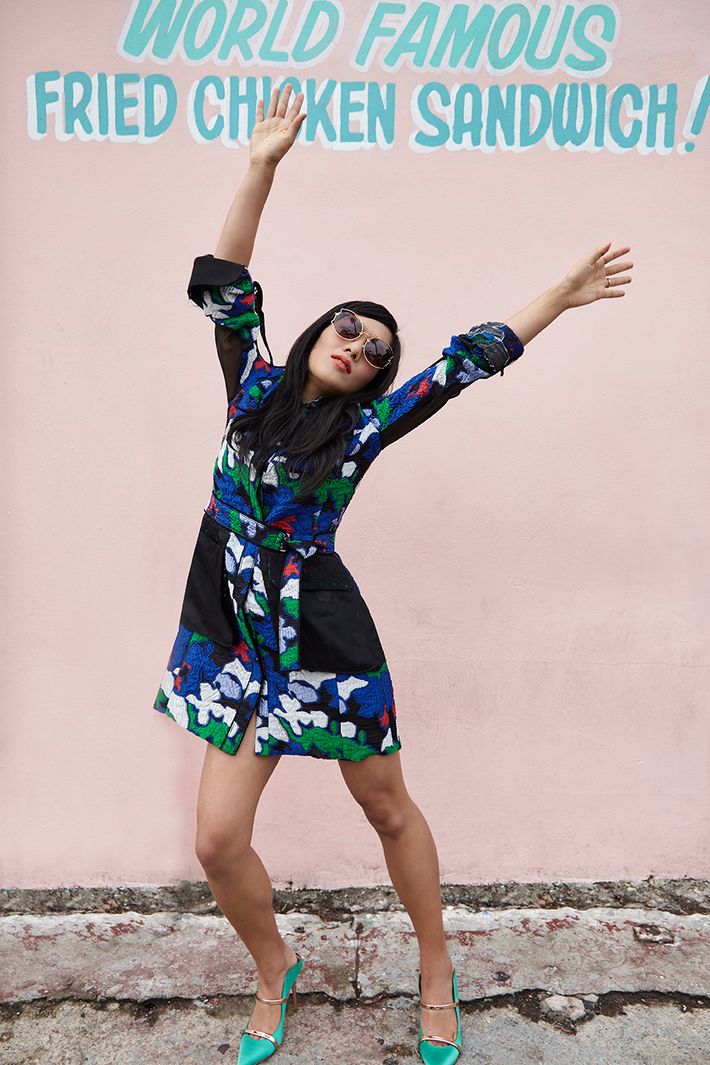 Miu Miu sunglasses, $500 at miumiu.com; Malone Souliers heels, $442 at matchesfashion.com; BOSS dress, $1,195 at hugoboss.com.
I read you named your daughter after Marie Kondo. Is this true?
It's much inspired by Marie Kondo, but not because I want her to be Marie Kondo. When we were choosing names, my husband and I had a huge list. And we'd be like, "What about this name? No, I know a girl in high school who was a cunt." So it got down to three names. Mari was one of the three we could agree on. She is a Mari. [Kondo's book] was one of most influential books I read in my adult life. Have you ever Kondo-ed?
Yeah, it was terrible. I mean good, but terrible. I couldn't even Kondo through the whole book.
It was disgusting. I mean, I didn't Kondo all at once, but it was very empowering. That one part where she tells you to get all your shoes and put them on the floor? I had ten pairs of black booties and they all looked alike. But to me, they had seemed different. I touched them to see if I felt joy. And this one pair, with three buckles and an open toe, I was like, To wear them, I have to unbuckle these three straps and have a nice-ass pedicure. So I was like, Fuck this. These do not spark joy. I will never wear a boot with a hole again that requires six steps. I don't buy anything that's not pull-on and pull-off. I'm not into doing anything above a one-inch heel. I touched shoes that literally sparked memories of pain. They ruined my evening. I've learned now to value my experience more than how I look.
Your outfit on your Netflix special stood out — it's a little different from standard maternity wear. And then it was replicated to become a Halloween costume! How did you choose your outfit for the show?
For the longest time in comedy, it was really difficult for me to figure out what to wear. In the beginning I dressed like a hip-hop child dancer, like one of those little kids you'd see in a Missy Elliott video, and wore my hair in these two Mickey Mouse buns. I did that in part to desexualize myself. When I got on stage, I felt like people were so distracted that I was a woman, and I tried to strip that away. Then I got tired of that whole style and realized that as long as I was funny, it didn't really matter. So as I got better at stand-up and grew up in my 20s, I let my hair down, literally and figuratively, and it felt great.
I had that striped H&M dress long before I taped the special, and way before I had a baby growing inside of me. But I wore it on a writers' retreat to Vegas while I was pregnant. When I put it on and looked in the mirror, I felt pretty funny and hot. I was like, Oh, this is kind of a winner maternity dress. The plan was to pair it with black sneakers but then I forgot them at home, so instead I wore those Melissa + Jason Wu jelly flats. Becoming a Halloween costume is still the most unexpected and exciting thing that has happened since Baby Cobra. I still can't believe it.
I heard you bought your own Golden Globes dress. What was shopping for that like?
Well, it was honestly kind of stressful. My husband witnessed me agonizing at my computer, desperately combing through Shopbop and Net-a-Porter for a fancy dress. Finally he said, "People don't follow you because of what you wear. They follow you because of what you say." Then I relaxed and immediately found this Preen by Thornton Bregazzi dress that fit perfectly. But I regret wearing heels with it. I pretty much always regret wearing heels.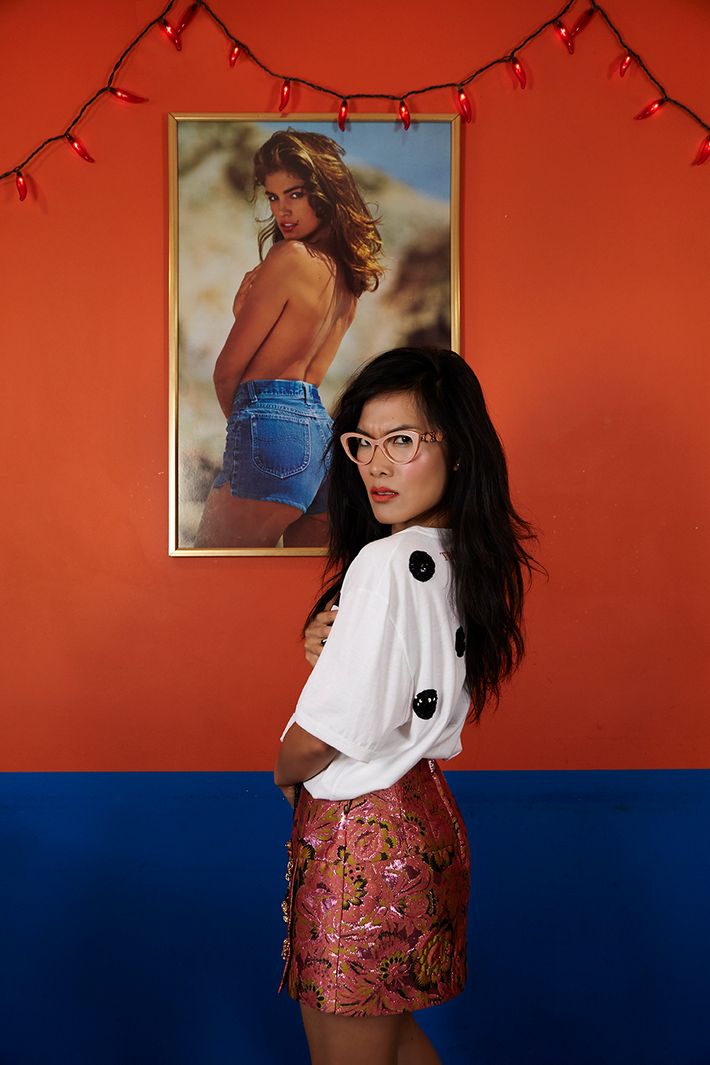 Dolce & Gabbana Optical frames, $440 at Bergdorf Goodman; Dolce & Gabbana T-shirt, $1,395 at dolceandgabbana.com; Dolce & Gabbana mini skirt, price upon request at dolceandgabbana.com.
Fashion and style can be a big part of a celebrity's image. Now that you're more well-known, how do you approach how you think about style? Is there a public Ali versus a private one when it comes to fashion?
I have to wear things that are comfortable and not too formfitting. If I'm suffocating and experiencing any sort of pressure in an outfit, it shows on my face and that is not cute. What's the use of wearing a sexy, tight-ass dress and stilettos if your expression reads "hostage"?
When I perform locally in L.A. at night, trying out new jokes, my go-to outfit is a pink Kenzo tiger sweatshirt, David Lerner leggings, and Vince sneakers. If I go to the park with my daughter, you'll see me in my Zara snakeskin sandals and Uniqlo U by Christopher Lemaire. Those particular Uniqlo pieces always have interesting shapes and are, most importantly, machine-washable! For events, I always end up wearing either Kaarem, Opening Ceremony, or Peter Som. Kaarem makes versatile clothes that drape so beautifully, even when I was pregnant. I love how fearless Opening Ceremony is, not just with their collections, but also in their social-media posts, genre-breaking runway shows, and collaborations. And then I wear Peter Som when I'm feeling more feminine.
I'm not a big jewelry girl and never have been. They look nice on other women, but because I'm so small, lots of necklaces and bracelets and things dangling off my body make me feel like a Las Vegas slot machine. Once my baby girl was born, I quickly reduced my two surgical-steel earrings on each side to one ring going through both holes on each side. I believe the style is called "Orbitals." I haven't worn it that way since college. Especially when I was breastfeeding, having any dangling earrings was way dangerous, basically asking my baby to rip out my earlobes.
Where do you get your glasses from?
Everywhere. The glasses I wear in Baby Cobra, I got on eBay. I really like Gentle Monster, Barton Perreira, Dior, and Dita. Right now, I only wear my D-Squared ones. They're the most sturdy, and my kid rips off my glasses a hundred times a day. But my husband and all the kids in his family have 20/20. My daughter can see really, really well. She can spot, like, bagels from miles and miles away.
The reason I got into glasses because I was really into disposable contacts. But I'm Chinese, I'm cheap. I would try to keep them as long as possible. It backfired and I left them in way too long one time. You're supposed to dispose of them every two weeks. But I kept them for a month. My eyes were all red and I thought I was going to go blind [from being] so cheap and leaving in these dirty-ass contacts for so long. My eyes were painful and red for so long.
So after that, I was like, Fuck that. Plus, if you look at ophthalmologists, they all wear eyeglasses. There's a reason for that. They're not getting Lasik. And I really like wearing glasses. I mean, sure, it would be nice to wake up and see. For me, glasses are like shoes for your face. And because I'm not willing to wear heels, it's a nice way to accessorize and change them up.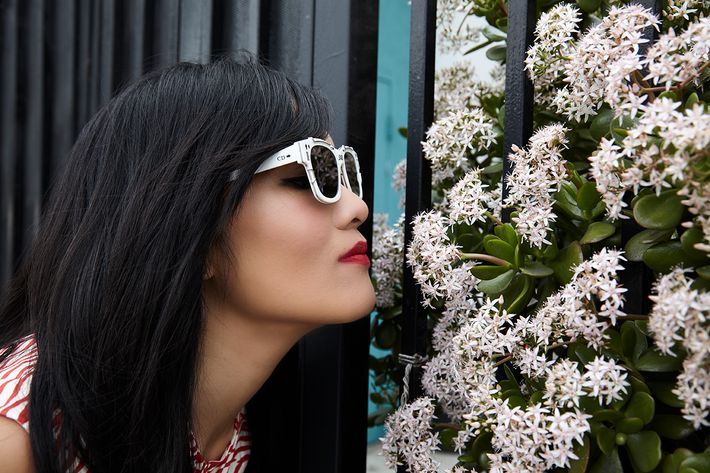 Dior "J'Adore" sunglasses, $710 at 21 East 57th St., 212-931-2950; Sportmax dress, price upon request at sportmax.com.
Often the joke or misconception with Asian-Americans is that we're all doctors, lawyers, accountants, or bankers. It seems like you're resonating in expanding the way Asian-Americans are seen. What are your thoughts on that?
Maybe that used to be true, but anyone who is paying attention can see that it's changed. Look at Dao-Yi Chow, Hiro Murai, Chrissy Teigen, Cary Fukunaga, David Chang, Niki Nakayama, Alexander Wang, Kenzo Digital, Carol Lim, and Humberto Leon. There's a growing number of Asian-Americans creating and innovating in what we watch, eat, wear, and think.
You occasionally reference being Asian in your comedy. Do you see your comedy as a vehicle for communicating your thoughts about Asian representation?
No, not at all. It's interesting. I was an Asian-American studies major in college. For a long time, I thought I would go into academia and become an Asian-American professor, and then I fell in love with stand-up comedy. I never set out to specifically speak about representation though — it's so hard to even just make a joke. I do whatever is first and foremost funny and interesting. Sometimes that happens to concern Asian-American identity, but not a lot of it. But it is something I will always be interested in.
But I also think it's dicey, with comedians, to view them as politicians. That's why I'm not a big social-media person. I don't want to have an opinion on everything and have people comb through it and hold me accountable. Comics are supposed to be comics. But now you have some comic people turned into politicians, which is cool for them.
Right, like someone like Amy Schumer.
And I love Amy so much. You need somebody like that. I need someone in society like that: a woman who speaks on everything. She's almost like a public intellectual. But at the same time, you have to be able to fight everyday. I'm not into that. But I do really appreciate that in other people. In my stand-up, I'm trying to do what's funny and interesting and not send out political messages.
Steve Harvey made headlines earlier this month with an old comedy bit that presented Asian men as being unattractive. In your comedy set, you actually riff the other way. Was that purposeful — as a way to take down that preconception, perpetuated by Harvey and others like him?
I was not trying to make a huge point. It was mostly a funny joke, but it comes from a real place. All the men I dated seriously and called my boyfriend and introduced to my parents were Asian-American. Note that that's not the people I have slept with — I have slept with the rainbow. For someone like Steve Harvey to say that, it shows ignorance. He has obviously not been around Asian communities. I grew up in San Francisco, went to college at UCLA, and went to NYC to pursue stand-up. I've been around a lot of gorgeous-ass Asian men.
Some people who only grew up with Caucasians weirdly say that dating someone Asian would be like dating "my brother." But that's because they grew up in Omaha, where the only other Asian person in town was their brother! But there is truly nothing more sexy and beautiful to me than Asian men. Certain men are so sexy, no one can deny it. Daniel Henney. Hello. Oh my God. Do you know who he is? Godfrey Gao. The first [Asian male] Louis Vuitton model. That motherfucker can sell handbags. I work in the entertainment industry, so I see all of them. They're my friends. The idea to me that Asian-American men aren't attractive is laughable. It comes from a place of ignorance and lack of exposure. But I'm glad that it did resonate with people on that level.
You talk about some sensitive subjects, such as miscarriage. Often the criticism with something like that is to instantly say, "That's not funny. That subject isn't funny." What do you make of that?
I don't think there is such a thing as a subject not being funny. It's all how you go about it. I mean, for so long, people were like, "No more flying-on-an-airplane jokes," because comedians had done it for so long. Then Louis C.K. did this amazing flying-on-an-airplane joke in the past five years, and it felt so fresh and so new. It's all about how you talk about it.
But I have always accepted that not everyone was going to like me. I mean, for so long, no one liked me. Nobody even knew who I was a year ago. The fact is that, now, people know who I am. So, yes, now I have to deal with being known enough that people can end up not liking me. It's a huge Champagne problem.
But I don't need a lot! I don't need everyone to like me. I just need enough people to like me to sell enough tickets to make a decent-enough living. I'm not trying to become president or a multi-cam sitcom star. I don't need everybody to talk to me.
Do you get recognized since your Netflix special has come out?
Yes, all the time … especially at Costco, because that place is church for Chinese people. It all really shocks my mother. She's especially proud when black and Latino strangers approach me and know who I am.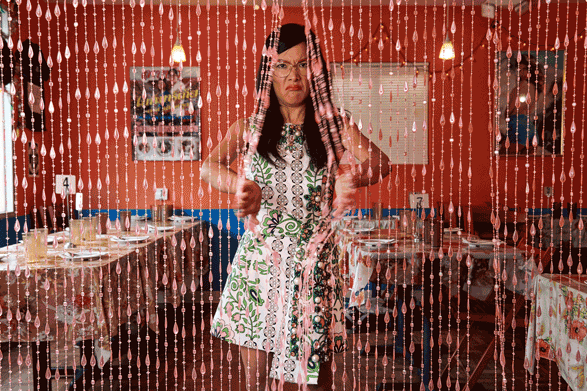 Lead image credits: Tory Burch dress, for similar styles, toryburch.com; Ali Wong's own glasses.
Photographs by Shaniqwa Jarvis. Styling by Diana Tsui. Hair by Derek Yuen. Makeup by Mai Quynh. Styling Assistance by Robyn Naksasone. Location: Night+Market Song.