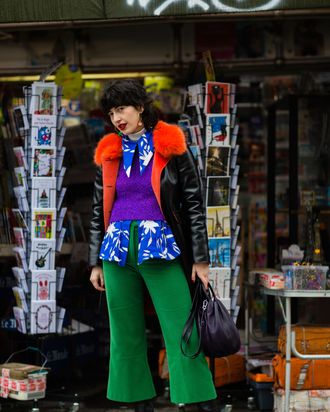 Alicia Padrón.
Photo: Nabile Quenum/Nabile Quenum
Wearing multiple bright colors in one outfit can appear as if you dressed in the dark while drunk, but somehow, Alicia Padrón pulls it off perfectly. Her inventive combination of kelly green, cobalt blue, metallic purple, and orange makes her the first Golden Peacock of Paris Fashion Week.
The trick to making this feel stylish and not off-the-rails comes in the form of the tiny details. Since the collar is super exaggerated, a sliver of a white turtleneck layered under cleans up the neckline. And instead of piling on even more color with the shoes and bag, she chose neutral black accessories. While you're probably not going to recreate this, consider it inspiration for some unusual color mixing in the future.