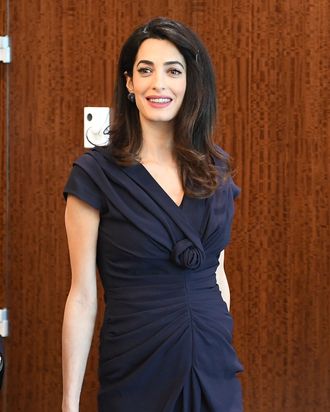 Amal Clooney.
Photo: ANGELA WEISS/AFP/Getty Images
In February, news broke that Amal Clooney, an international human-rights lawyer, is expecting twins with her husband George Clooney, a brand ambassador for Nespresso. Like many a female celebrity before her, she then came to be referred to in the press with the word "Pregnant" before her name, possibly with a bonus mention of her "baby bump."
The Talk's Julie Chen first reported the news of Amal's pregnancy on February 9, though rumors had been swirling for awhile. By her next public appearance, she was officially Pregnant Amal Clooney.
"Pregnant Amal Clooney Shows Off Her Baby Bump in Stunning Fitted Gown" said Us Weekly. "Pregnant Amal Clooney Debuts Baby Bump with Husband George at Cesar Awards!" Just Jared enthused. "Pregnant Amal Clooney Steps Out to Support Husband George at César Awards During 'Romantic Weekend' in Paris," People reported. "Pregnant Amal Clooney outshines husband George as she displays her growing baby bump in sweeping ombré feathered ballgown … before he pays her a moving tribute at the César Awards,"declared the always verbose Daily Mail. "OH BABY!" the Sun blared. "Pregnant Amal Clooney joins husband George on the red carpet to debut her baby bump for the first time since the couple announced they were expecting twins." And finally, "Peek-a-bump! Pregnant Amal Clooney glows at Cesar Awards with hubby George," from Today.
Peek-a-bump indeed.