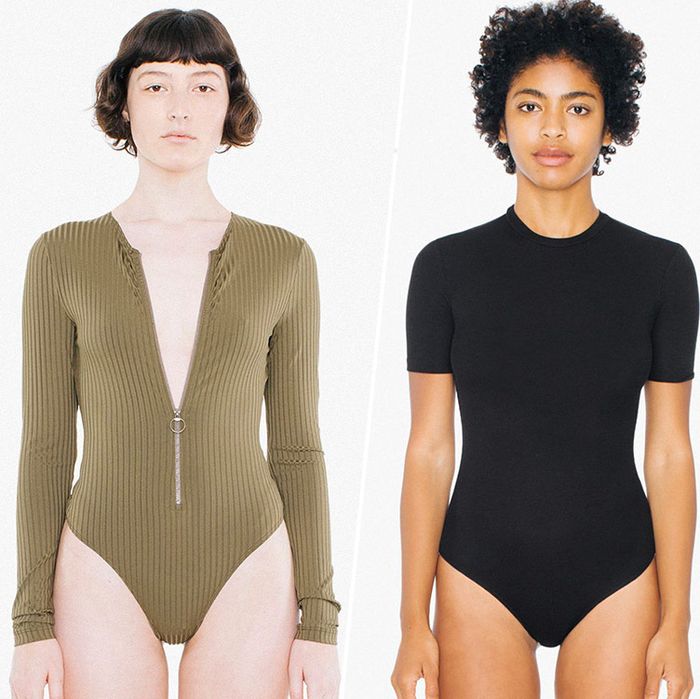 Earlier this year, American Apparel announced they were closing their stores, leaving the future of shiny disco pants and sweater crop tops uncertain. Whether you were a fan of the mom-jean mecca or shook your head at its controversial ads (and sometimes outrageous prices), one thing remains — they made some damn good basics.
The upside to the news is that all of the brand's stock is now 40 percent off. Before you go running for those cotton hoodies and backpacks (other suitable alternatives exist) there's one staple you should be hoarding now: the bodysuits. For the price they were the best on the market. Plus, they made almost every style imaginable, from long-sleeved to square-neck tank tops (yes, that specific) to thong bodysuits and more full coverage cuts. Another bonus was that the cotton was sturdy and durable, while the stretch flattered most body types. The sale goes for both in-store and online stock, but after a trip to a few local stores, I've found the site to be far superior in both size and style variety. Scroll below to shop our recommendations and get them before they're gone forever.

There's really never an instance where a simple tank bodysuit won't come in handy. Layer it underneath cardigans, bombers, denim jackets, its uses are endless. It's also one of the cheaper bodysuit options available, and the ribbed knit cotton feels super soft against the skin.
As someone with a pear shape, there is no struggle more frustrating than pants that don't fit around the waist. Any subtle movement is enough for your top to rise and your jeans to descend. If you don't want to ruin your look with a belt, this bodysuit is your styling savior. It gives the appearance of a seamlessly tucked in T-shirt without VPL. I've stuck to wearing these when I want a more seamless look and haven't looked back.
This bodysuit is somewhat deceiving — from the front its your typical long-sleeved top, but from behind there's a fun key-hole cutout. It even works for the office — just throw on a chic blazer or cardigan.
Even when times call for fancier dress standards (date, drinks with my girlfriends), I still prefer my bodysuits over a silky blouse. The cotton is clingy and soft to the touch so it's comfy albeit snug. The zipper also lets you take command of how much flesh you want to show: Go modest or just let it go all the way down.