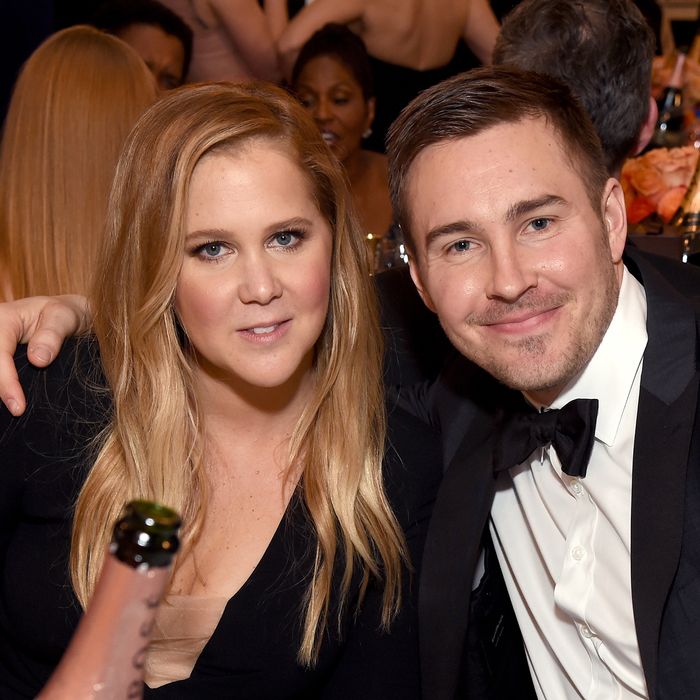 Amy Schumer and Ben Hanisch.
Photo: Michael Kovac/Getty Images for Moet & Chandon
Not all boyfriends are created equal. But Amy Schumer's boyfriend, Ben Hanisch, is proving to be one step above the rest — at least when it comes to dealing with unwanted photographers. In the latest issue of Glamour U.K., Schumer talks about her pretty normal relationship with Hanisch and how he strikes a protective tone when the two are in public.

"He's very protective of me," Schumer told the magazine, according to E! News. "Like, not overprotective, but if someone's taking pictures of me or filming in a restaurant, he'll start taking pictures of them." Ah, nothing quite like turning the camera on the photographers to disarm them!

Schumer added that while Hanisch is comfortable at public outings, he's always game for ditching celebrity-filled events. Fame, Schumer continued, wasn't something she ever truly wanted or expected. "The fame aspect is not something that appealed to me at all," she told Glamour. "And I was really kind of terrified of it." That doesn't mean she would trade it for another gig, though. It's something she's more "conscious" of now because of the people she's with, she added. "I'm not to the level of some people, some actresses where it's constant tabloids," Schumer said, "but it's enough that it's really uncomfortable."
It's no wonder Hanisch lends a hand every now and then to ward off the photographers. Best of luck to the couple with continuing to duck away from the paparazzi! They're a persistent bunch.