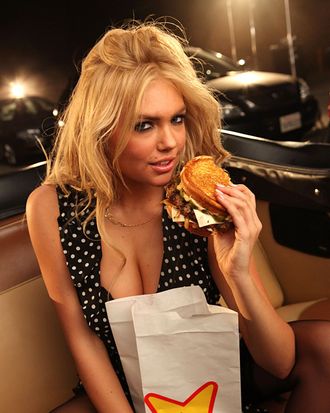 Kate Upton suggestively eats a burger in a Hardee's ad.
On the eve of his confirmation hearing, Andrew Puzder — the CEO of CKE Restaurants, which owns Carl's Jr. and Hardee's, among other chains — withdrew his name for consideration for Labor secretary after it became clear that at least three Republican senators would vote against him. In a statement, he said he was "honored" to have been considered, adding, "While I won't be serving in the administration, I fully support the President and his highly qualified team."
Puzder was lampooned in the press shortly after his nomination was announced, with every news cycle revealing something new and damning about him — that he once employed an undocumented immigrant as a housekeeper; that his ex-wife accused him of domestic abuse; that rates of sexual harassment at his restaurants are way higher than the industry average. And then, of course, there were the ads that Carl's Jr. and Hardee's regularly ran showing women in very small clothing eating very big hamburgers.
Puzder defended the ads in an Entrepreneur feature, and in an interview with Fox Business Network on Thursday, he said he was "sorry" senators were uncomfortable with them. "We saved the company with those ads, we saved a lot of jobs," he said, adding that he "didn't think all women found these ads demeaning — certainly the women in the ads didn't."
"I think that any grocery store you go into or drug store you're going to see on magazine covers things that are more revealing than you saw in many of our ads," he said.
Puzder also addressed the abuse allegations his ex-wife, Lisa Fierstein (then Lisa Henning) leveled against him in the couple's divorce filing. "There's a lot of arguments in every marriage," he said. "There was never any substance to the abuse. I had always denied it. She admitted very shortly after the divorce that they weren't true. And so it was somewhat of a surprise that the media would go after it so strongly."
But senators from both sides of the aisle took the allegations seriously as well; they asked to view an episode of Oprah where Fierstein appears in disguise to talk about her abusive marriage. In the episode, which is called "High-Class Battered Women," Fierstein said Puzder "vowed revenge" and told her she'd "pay for this." (In a statement to the Cut, she said she "impulsively filed for divorce and was counseled to file allegations that I regretted.")
Despite all the bad press, Puzder blamed his shaky support on protests and the fact that his hearing kept getting delayed. "A lot of the senators … went home and they had protesters and demonstrators at their offices and their events that they'd really never seen before, and they began to waver," he said. "I had been told by some of my Republican senator friends that that actually is what killed it."