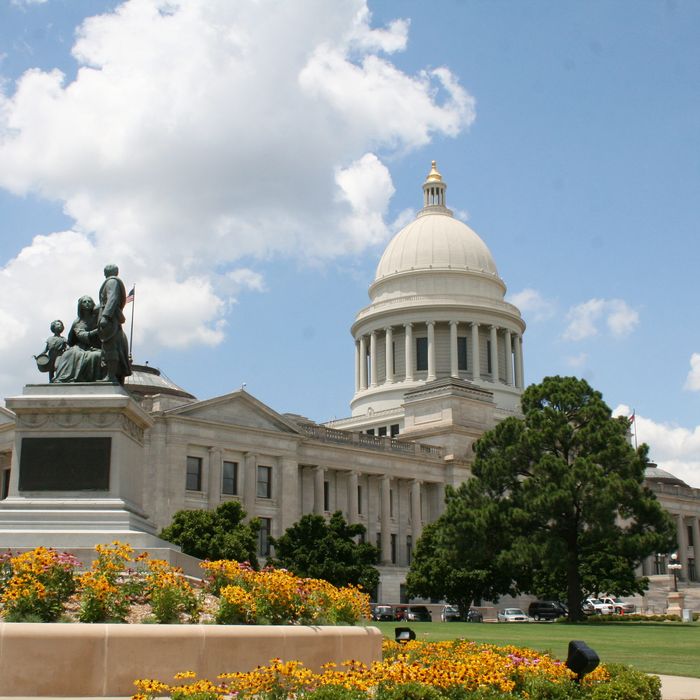 Arkansas State Capitol.
Photo: Ramesh Lalwani#124641/Flickr Vision
Arkansas governor Asa Hutchinson on Wednesday signed a law requiring doctors to investigate women seeking abortions before they can actually receive the procedure. The measure purports to block abortions that are based solely on the sex of the fetus, but actually bans women from getting the procedure until their physician has put in an unspecified amount of "time and effort" obtaining her pregnancy-related medical records.
House Bill 1434 — which creates the "Sex Discrimination by Abortion Prohibition Act" — was passed by the Arkansas House of Representatives and Senate this month, and will go into effect in January 2018. It forces doctors to ask a woman if she knows the sex of the fetus and, if she does, they must then gather all medical records pertaining to her "entire pregnancy history." Under the law, doctors are prohibited from providing a woman with an abortion until they've taken a "reasonable" amount of time to get the records — which could potentially result in an indefinite waiting period, the Center for Reproductive Rights noted in a statement.
"Health-care providers should never be forced to investigate patients for the reasons behind their personal, private decisions," Lourdes Rivera, a senior vice-president at the Center for Reproductive Rights, said. "When a woman has made the decision to end a pregnancy, she needs high-quality health care, not an interrogation."
According to the Center for Reproductive Rights, this new law makes Arkansas the first state to require doctors to not only investigate a woman's reasons for getting an abortion, but also to force them to look at her entire pregnancy-related history. The bill includes some language about sex-selection abortion and states that it mostly affects female fetuses, and briefly cites other countries that have taken steps to end the practice (India, Great Britain, and China). However, it doesn't provide any data about such abortions in the United States. Under the new law, any doctor that performs an abortion based on the sex of the fetus will be found guilty of a class A misdemeanor.