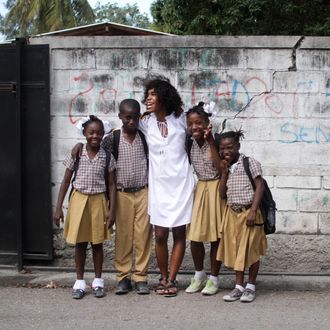 Haitian-born designer Azede Jean-Pierre may be an up-and-comer, but she already calls First Lady Michelle Obama and Solange Knowles fans of her structural and modern designs. Jean-Pierre is also known for using her roots as inspiration for her looks, and on a recent trip back to Haiti, she mentored local artisans about entrepreneurship in collaboration with the Clinton Foundation.
"I had the most amazing and inspiring time in Haiti," Jean-Pierre told the Cut. "Speaking to local female business owners and artisans about entrepreneurship was truly incredible, and seeing the creativity and diversity of their work was awe-inspiring. It's so important to me that they have an international outlet for their work."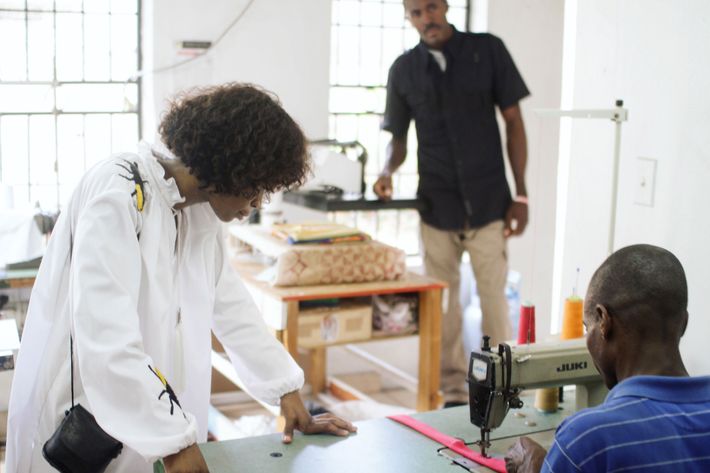 During her stay in Haiti, Jean-Pierre connected with Maryse Pénette-Kedar, president of Royal Caribbean cruise lines and founder of Prodev, an organization that develops and supports schools in underserved communities. She also met with Josue Makandal Baziles, president of CEFADEC, an organization based in Jean-Pierre's hometown of Pestel that builds agriculture development in local schools. When they all came together with the Artists for Peace and Justice, the initiative was clear: Students in underprivileged schools needed new uniforms.
Local artists will collaborate on the designs, which will be ready for students at 12 different schools by the fall 2017 school year. "I am excited about the project," Jean-Pierre said. "All education in Haiti is private, and I know firsthand how difficult it is for families to afford the tuition, let alone the additional necessities like books, transportation, and the uniforms. This project gives parents much-needed support, and it's my hope that it will increase the efficiency of the traditional attire, as well as boost student self-esteem."