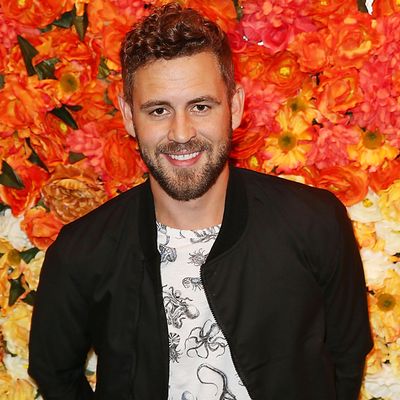 Nick Viall.
Photo: Joe Scarnici/Getty Images for boohoo.com
After two stints on The Bachelorette, a single pass at Bachelor in Paradise and The Bachelor, and an upcoming stretch on Dancing With the Stars, one might say there isn't a spotlight in the world that doesn't make Nick Viall's eyes gleam. Perhaps then it should come as no surprise that the career reality man is now diving into the beauty pool. Along with two other "business partners," Viall is launching a men's grooming line called The Polished Gent, he explained to Entertainment Tonight.
The website's splashpage explains that the prospect of his studly looks wilting has plagued Viall since his mid-20s (he is now 36), and propelled his new business venture. What the website doesn't explain is when, where, and how you can expect to try the grooming goods (whatever they may be) for yourself. Suspenseful, right? Just like a — hmm – can't quite place my finger on it.