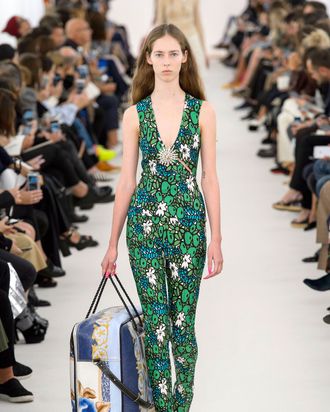 Balenciaga spring 2017.
Photo: Alessandro Lucioni/Imaxtree
After being dismissed by Balenciaga earlier this week for allegedly mistreating models during a PFW casting, casting directors Maida Gregori Boina and Rami Fernandes have denied the claims. Speaking to Business of Fashion, Gregori Boina said "the models did not wait for three hours in the dark, not even one hour. We personally ate our lunch in the casting facility and — without question — we did not lock the models in the stairwell and turn out the lights. That would be completely inhumane. Throughout the entire process, we provided the most comfortable accommodations allowable based on the facilities provided." She blamed the darkness on an electrical outage.

The allegations of abuse were originally raised by casting director James Scully in an Instagram post, and several models chimed in in his comments to say that they had experienced mistreatment at the hands of the casting duo. Model Judith Schiltz, who attended the casting, wrote "I was one of [these] 150 girls waiting in this stairwell. Personally, I decided to leave the casting, just before it's [sic] was my turn. Just after I saw the casting director screaming at us to go out — outside, in the dark — and told us that we are like groupies in a concert." Former model Mollie Gondi wrote: "Maida would request me season after season to do the exact same thing. Lock me in a room for three hours while everyone panicked, only to never, ever book me. The apology to the agencies from the fashion house is laughable because the agents have known this for years and don't think twice because they want their girl in the show."
After cutting ties with Gregori Boina and Fernandes, Balenciaga issued apologies to the models affected and said, in a statement provided to the Cut, "Balenciaga condemns this incident and will continue to be deeply committed to ensure the most respectful working conditions for the models."
In his original post, Scully also called out Lanvin's casting team (the show is not cast by Gregori Boina and Fernandes, but — according to this season's show notes — by Patrizia Pilotti) for saying, as he said agency sources told him, "that they do not want to be presented with women of color." And in fact, the show, which walked yesterday, featured only four models of color. (When contacted for a comment, a Lanvin rep told us "These allegations are completely false and baseless.") Scully has promised to continue his whistle-blowing as Paris Fashion Week continues, so stay tuned.