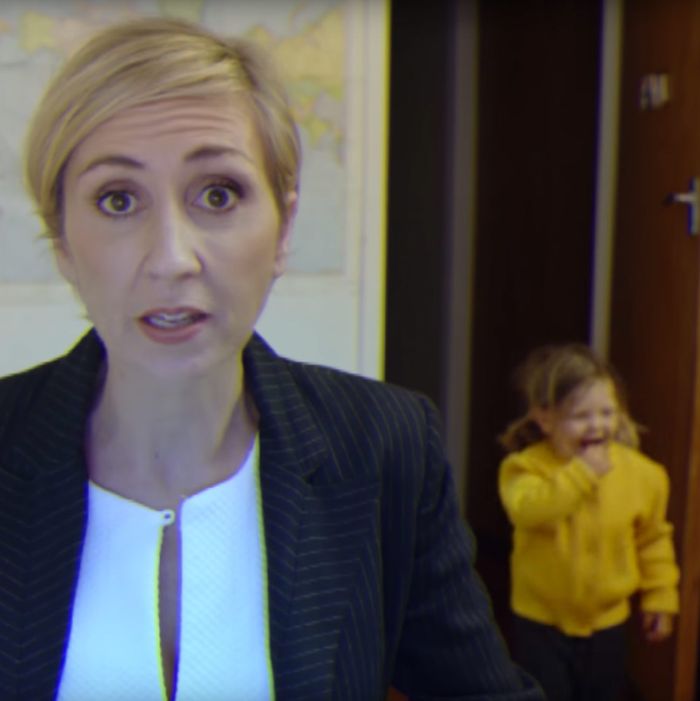 Jono and Ben's parody video features a mother.
First came the backlash, now come the spoofs: Shortly after a toddler strutted into her father Robert Kelly's BBC interview and created a viral-video sensation, New Zealand comedy show Jono and Ben imagined how a mother would have handled the interruption.
In the parody, a woman speaks with a television anchor about the political crisis in South Korea, when her young daughter (dressed in yellow, but sadly sans glasses) walks in. But instead of trying to move her daughter out of view, the mother simply hoists the girl up onto her lap and gives her a bottle. Then, the woman gives her other kid a toy, tends to a roasting chicken, cleans a toilet, defuse a bomb, and deals with her husband as he struggles to find his sock, all while keeping her cool and staying on message.
This video is just one of a series of parodies inspired by the viral clip. There's also one that imagines how an Indian family would've handled the situation, another with a kid playing the father role (and discussing Santa and the North Pole, instead of South Korea), and one in which a man informs the presenter that no, the woman who barges in to take the child away is not the nanny.
Here's the original clip in case you're one of the few who missed it: