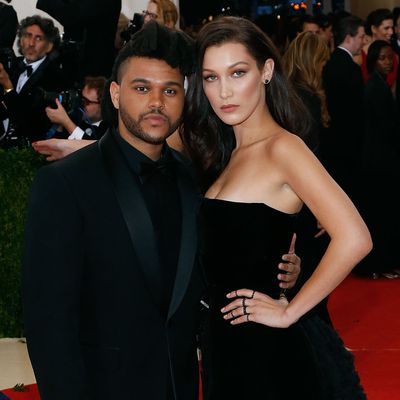 The once-happy couple.
Photo: Taylor Hill/FilmMagic
Bella Hadid had good reason to reach for her sister Gigi's hand on Wednesday. After walking in the H&M spring-summer 2017 show in Paris, Bella strutted down the runway with the other models for one final lap. And, as luck would have it, the voice of her ex-boyfriend, the Weeknd, blared from the speakers in the background.

Except, of course, it wasn't just his voice — the man was performing live in the venue for the end of the show. Truly, that's the kind of luck that befalls an in-demand model who just so happened to once date another in-demand R&B/pop star who, to boot, is also beloved in the fashion industry.

The once-happy couple previously had another close encounter on the runway. In November, the two were mere steps away from each other at the Victoria's Secret fashion show, which took place weeks after they called it quits. Photos of that show captured the two giving each other quite the look, but alas, things change, and in the following months the Weeknd began dating Selena Gomez. So, it's no wonder that this time around Bella didn't give the singer any wistful looks from the runway. Instead, she marched onward, giving a quick, knowing look to Gigi while holding her hand.

The sisters also hugged it out on the dance floor as everyone gathered in front of the stage for some sisterly support. After all, who wants to look up at an ex whom they've admitted they will "always love"?